Collaboration between disparate fields: "Mountain & Music" Enjoyed through Stories and Music
Events Details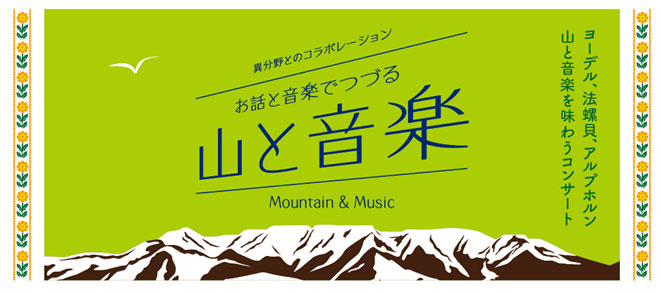 Collaboration between disparate fields: "Mountain & Music" Enjoyed through Stories and Music
Pre-school children may not enter
【一般席予定枚数終了・車椅子席のみ受付中】当日券はございません
---
Saturday, March 5, 2022Starts at 3:00 P.M.
Seijo Hall

Access Map

Link to Google Maps

Address: 6-2-1 Seijo, Setagaya-ku, Tokyo
Note: No parking is available. Please use the train or bus.

Access:
By train, take the Odakyu Line, and get off at 'Seijo Gakuenmae'. (4 min walk)
This is one of a series of events planned by Seta-on Music Director, Shinichiro Ikebe.
Mountain climbing has always been a popular leisure activity allowing even those who live in the city to enjoy nature and relieve themselves of their stress.
This event, based on the theme of "Mountain & Music," will focus on the charms of mountains, and how they relate to music, with Kenjirou Ishimaru as guest performer.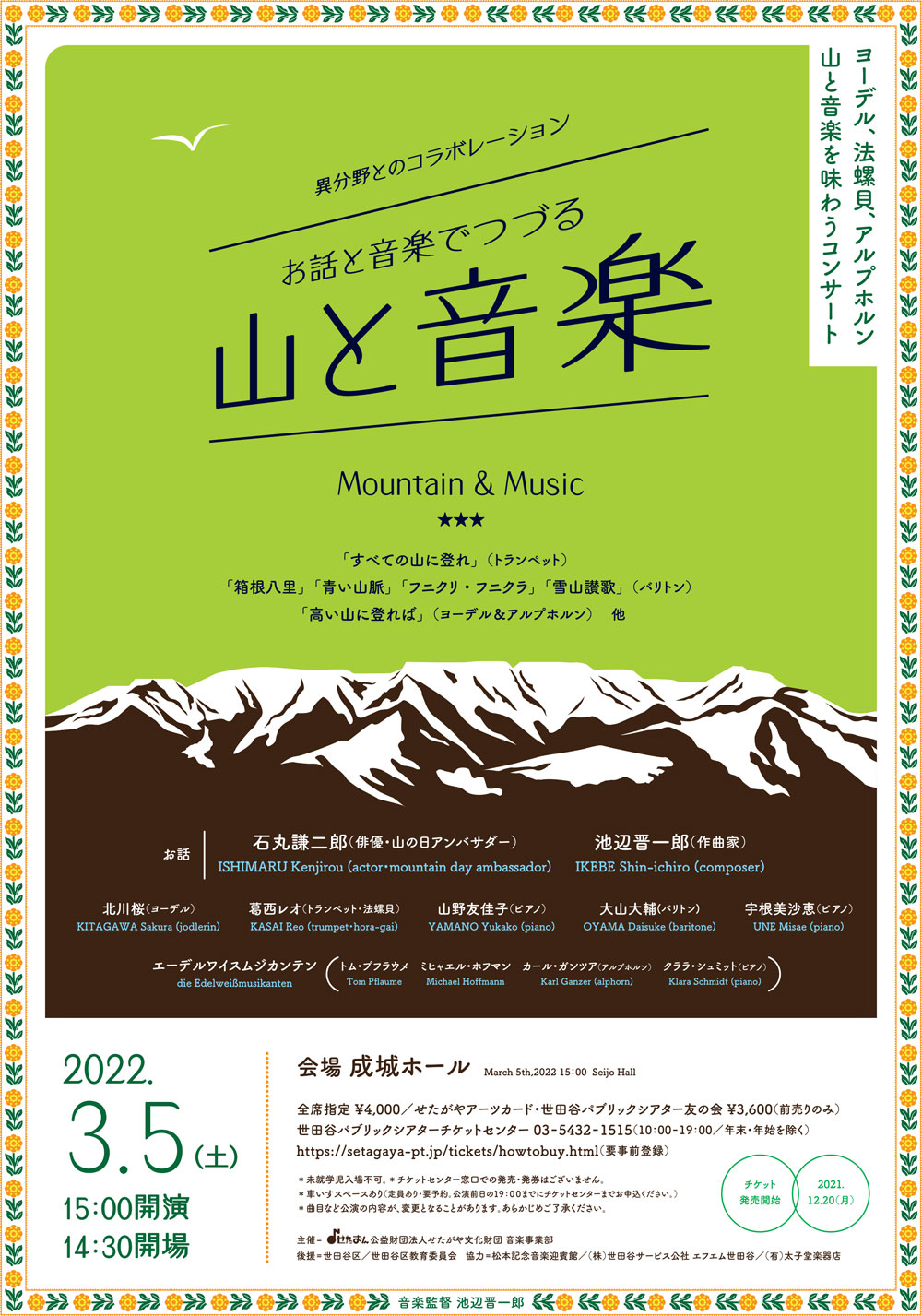 Performers

Kenjirou Ishimaru (storyteller/actor) profile…

Shinichiro Ikebe (storyteller/composer) profile…

Sakura Kitagawa (yodeller) profile…

[Edelweiss-Musikanten] profile…
  Tom Pflaume (alphorn) 
  Michael Hofmann (alphorn) 
  Karl Ganza (alphorn) 
  Clara Schmitt (piano)

Reo Kasai (trumpet, conch horn) profile…

Yukako Yamano (piano) profile…

Daisuke Oyama (baritone) profile…

Misae Une (piano) profile…
---
Program

Climb Every Mountain
Hakone Hachiri
Aoi Sanmyaku
Funiculi Funicula
Yukiyama Sanka
Takai Yama-ni Noboreba, among others
---
Admission fees

General: 4,000yen
Setagaya Arts Card and Setagaya Public Theatre Club members: 3,600yen (advance sales only)
*Reserved seats only / Includes consumption tax
*Pre-school children may not enter

*Wheelchair spaces available (limited / reservations required)
Fee: 10% discount with free admission for one escort
Call the Setagaya Public Theatre Ticket Centre (03-5432-1515) by 7:00 P.M. on the day before the performance.

*Tickets will only be sold by phone or online. Tickets will not be sold or issued through the Ticket Centre.
*Payments are to be made at 7-Eleven or online using a credit card.
*Tickets will only be issued through ticket terminals at 7-Eleven (handling fee of 110 yen will be charged per ticket).

*Be sure to read "A Request for Visitors to Prevent the Spread of COVID-19" before coming to the venue.

Start of sales

10:00 A.M. Monday, December 20, 2021
---
Profile
---
Musical supervision

Shinichiro Ikebe

Sponsor

Setagaya Arts Foundation Music Project Department

Support

City of Setagaya
Setagaya City Board of Education

Cooperation

Matsumoto Memorial Music Guest House
Setagaya General Service Co., Ltd., Community Radio Station FM Setagaya
Taishidou Musical Instrument Store