4th Series of "Wa, Hana, Shirabe": Traditional Okinawan Performing Arts Special Performance – The Singing and Dancing of Churanaru-shima
Events Details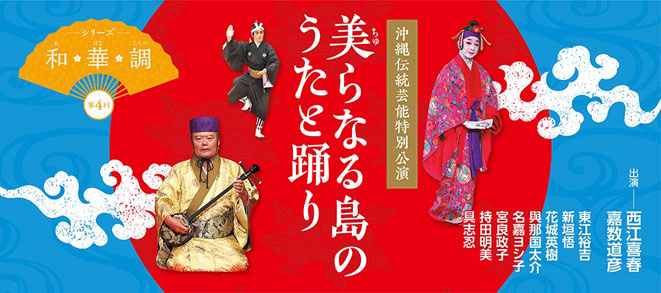 4th Series of "Wa, Hana, Shirabe": Traditional Okinawan Performing Arts Special Performance – The Singing and Dancing of Churanaru-shima
Pre-school children may not enter
[Tickets sold out] No tickets available on the day
---
Saturday, May 29, 2021Starts at ①2:30 P.M. ②5:30 P.M.
Seijo Hall

Access Map

Link to Google Maps

Address: 6-2-1 Seijo, Setagaya-ku, Tokyo
Note: No parking is available. Please use the train or bus.

Access:
By train, take the Odakyu Line, and get off at 'Seijo Gakuenmae'. (4 min walk)
This series of performances offers enjoyment of accessible, high-quality traditional Japanese music performed in a cozy atmosphere by first-class musicians. The 4th event in this series will be a special performance! Come and enjoy the uniqueness of Okinawan performing arts and relax while immersing yourself in its elegant world.
Blessed with the beauty of the ocean and dazzling sun. The former Ryukyu Kingdom of Okinawa was influenced by many countries throughout Asia as it developed and honed its own culture. Listen to the beautiful sound of sanshin, a key instrument in Okinawan music, performed by a master player, and the performances of traditional dancers striving to take on new challenges. Enjoy the variety of songs and dances brimming with passion.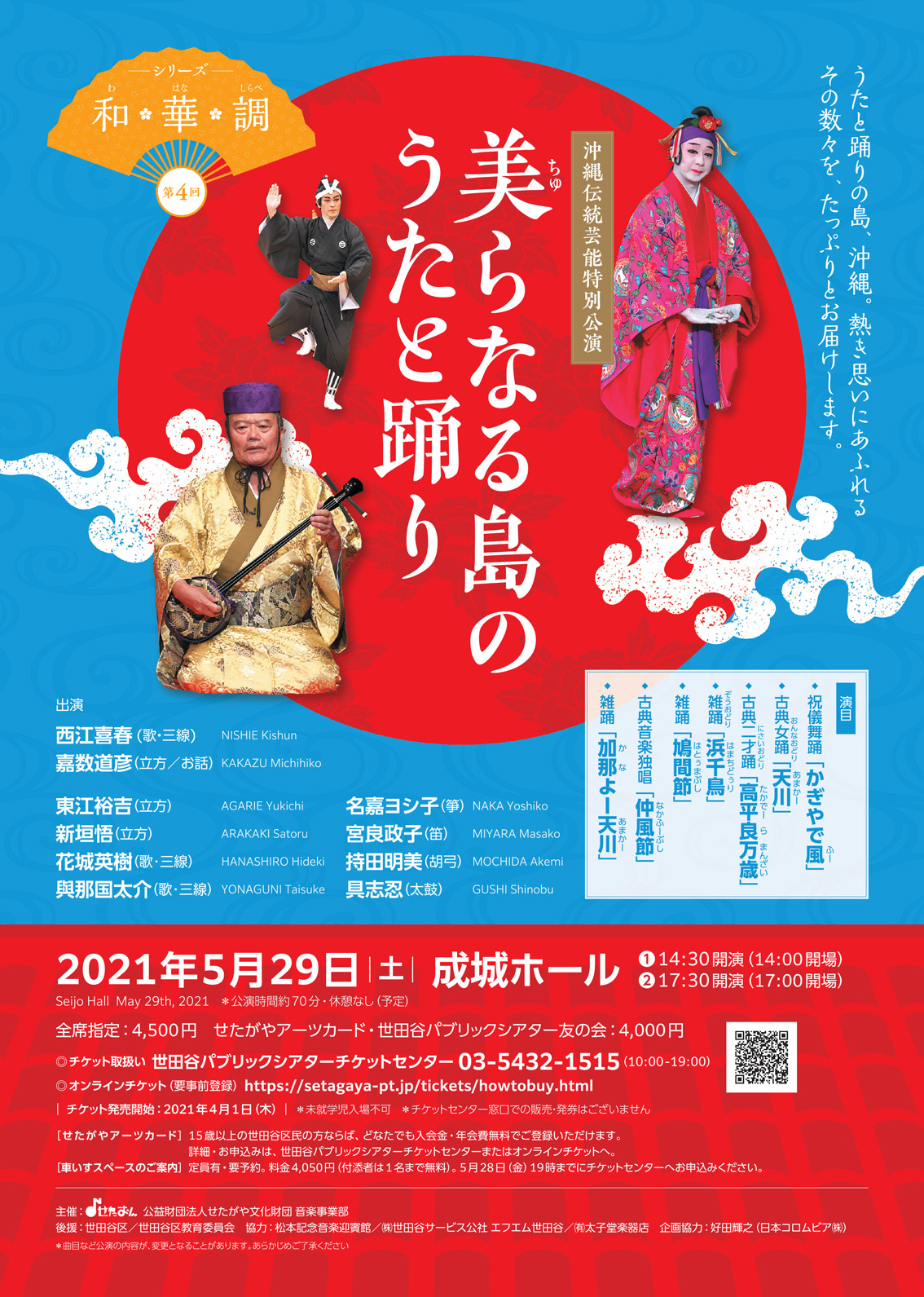 ---
Performers

NISHIE Kishun (singing, sanshin) [holder of Important Intangible Cultural Property (living national treasure)] profile…
KAKAZU Michihiko (dancing, storytelling) profile…

AGARIE Yukichi (dancing)
HANASHIRO Hideki (singing, sanshin)
YONAGUNI Taisuke (singing, sanshin)

NAKA Yoshiko (koto) profile…

MIYARA Masako (flute)
MOCHIDA Akemi (Chinese fiddle)
GUSHI Shinobu (drum)

*The dance performance by ARAKAKI Satoru was canceled due to health issues. Please note that a part of the program has been changed accordingly.
---
Program

Wedding dance: Kagiya-de Fuu
Classical Onna Odori: Amakaa
Classical Nisai Odori: Takadeera Manzai
Zo Odori: Hamachiduri and Hatumabushi
Classical vocal solo: Nakafuu-bushi
Zo Odori: Kanayo Amakaa

*Please note that the program is subject to change.

*Performance time is around 70 minutes with no intermissions (planned)
---
Admission fee

General: 4,500yen
Setagaya Arts Card and Setagaya Public Theatre Club members: 4,000yen (advance sales only)
*Reserved seats only / Includes consumption tax
*Pre-school children may not enter

*Wheelchair spaces available (limited / reservations required)
Fee: 10% discount with free admission for one escort
Call the Setagaya Public Theatre Ticket Centre (03-5432-1515) by 7:00 P.M. on the day before the performance.

*Tickets will only be sold by phone or online. Tickets will not be sold or issued through the Ticket Centre.
*Payments are to be made at 7-Eleven or online using a credit card.
*Tickets will only be issued through ticket terminals at 7-Eleven (handling fee of 110 yen will be charged per ticket).
*Be sure to read "A Request for Visitors to Prevent the Spread of COVID-19" before coming to the venue.

Seat layout

Click here for seat layout (PDF file)

*Same for both performances: ① 2:30 P.M. ② 5:30 P.M.
*Tickets for these performances will be sold for alternate rows of seats as part of measures to prevent infection with COVID-19. However, additional seats may become available depending on the state of the spread of infection in the future.

Start of sales

Thursday, April 1, 2021
---
profile
---
Sponsor

Setagaya Arts Foundation Music Project Department

Support

City of Setagaya
Setagaya City Board of Education

Cooperation

Matsumoto Memorial Music Guest House
Setagaya General Service Co., Ltd., Community Radio Station FM Setagaya
Taishidou Musical Instrument Store