Collaboration between disparate fields: Fusing astronomy with music
Events Details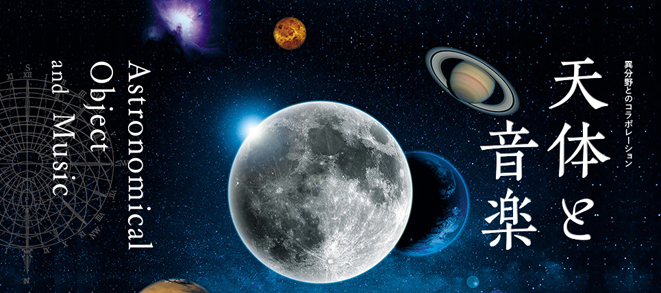 Collaboration between disparate fields: Fusing astronomy with music
Pre-school children may not enter
Thank you sold out. No tickets will be sold on the day
---
Saturday, March 6, 2021Starts at 3:00 P.M.
Seijo Hall

Access Map

Link to Google Maps

Address: 6-2-1 Seijo, Setagaya-ku, Tokyo
Note: No parking is available. Please use the train or bus.

Access:
By train, take the Odakyu Line, and get off at 'Seijo Gakuenmae'. (4 min walk)
By bus, get off at 'Seijo Gakuenmae-eki Kitaguchi' using SEI 01, 02, 04, 05, 06,
TOSE 20, 21. (3 min walk)
Get off at 'Seijo Gakuenmae-eki Minamiguch' using TORITSU 01, TO 12, TAMA 07,
YO 06. (4 min walk)
Get off at 'Seijo Gakuenmae-eki Nishiguchi' using SHIBU 24. (5 min walk)
Note: To get back on the bus, you must go to South gate.
Numerous mysterious celestial bodies fill the infinitely expansive universe. Shinichiro Ikebe, the Seta-on musical supervisor, was joined by Tetsuo Hasegawa, an astronomer, to unravel the close ties between music and astronomy.
Enjoy the selection of music associated with celestial bodies in an awesome concert given by the principal performers of orchestras that represent Japan, and the elite wind instrument players and pianists of Tokyo six-man working on the front lines of music. Listen to special versions of the music arranged just for this concert.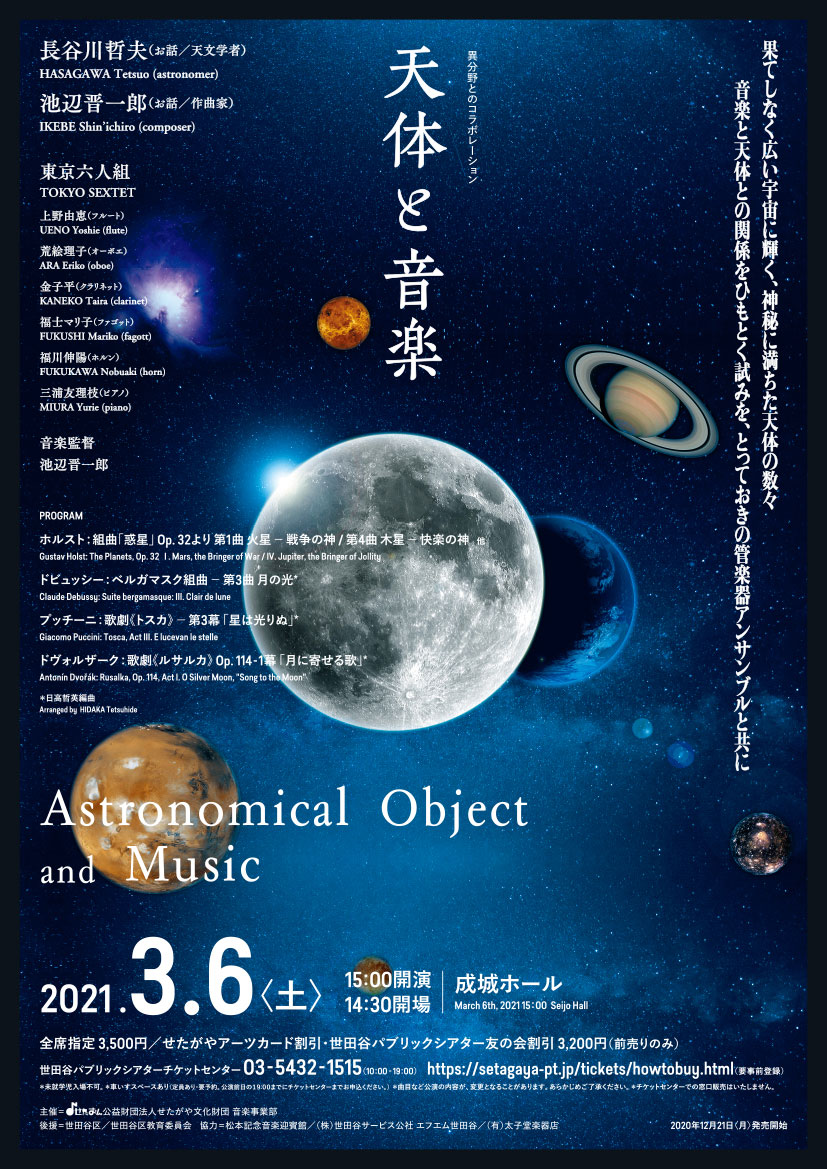 Performers
Music arranger

Tetsuhide Hidaka (composer / music arranger) profile…
---
Program

Puccini / Arranged by Tetsuhide Hidaka: Opera Tosca – Act III "When the Stars were Brightly Shining"
Debussy / Arranged by Tetsuhide Hidaka: Suite bergamasque – III. Clair de lune
Holst: The Planets, Op. 32 – I. Mars, the Bringer of War and IV. Jupiter, the Bringer of Jollity
Dvorak / Arranged by Tetsuhide Hidaka: Rusalka, Op. 114 – Act I "O Silver Moon"
(All Tokyo six-man versions)
---
Admission fees

General: 3,500yen
Setagaya Arts Card and Setagaya Public Theatre Club members: 3,200yen (advance sales only)
*Reserved seats only / Includes consumption tax
*Pre-school children may not enter

*Wheelchair spaces available (limited / reservations required)
Fee: 10% discount with free admission for one escort
Call the Setagaya Public Theatre Ticket Centre (03-5432-1515) by 7:00 P.M. on the day before the performance.

*Tickets will only be sold by phone or online. Tickets will not be sold or issued through the Ticket Centre.
*Payments are to be made at 7-Eleven or online using a credit card.
*Tickets will only be issued through ticket terminals at 7-Eleven (handling fee of 110 yen will be charged per ticket).

*Be sure to read "A Request for Visitors to Prevent the Spread of COVID-19" before coming to the venue.

Seat layout

Start of sales

Monday, December 21, 2020
---
Profile
TOKYO SEXTET
[Yoshie Ueno (flute)
Eriko Ara (oboe)
Taira Kaneko (clarinet)
Mariko Fukushi (fagott)
Nobuaki Fukukawa (horn)
Yurie Miura (piano)]
---
Musical supervision

Shinichiro Ikebe

Sponsor

Setagaya Arts Foundation Music Project Department

Support

City of Setagaya
Setagaya City Board of Education

Cooperation

Matsumoto Memorial Music Guest House
Setagaya General Service Co., Ltd., Community Radio Station FM Setagaya
Taishidou Musical Instrument Store