Chamber Music Series: Around the PianoMari Kodama & Yoko Kikuchi – Concert for Two Pianos
Events Details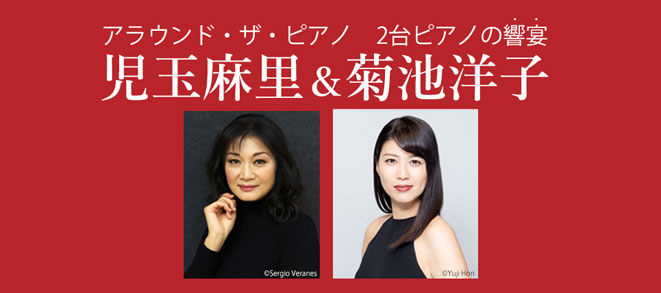 Chamber Music Series: Around the Piano
Mari Kodama & Yoko Kikuchi – Concert for Two Pianos
Pre-school children may not enter
Changes made to a performer and the music. No tickets will be sold on the day
---
September 21, 2020 (Monday and public holiday)Starts at 3:00 P.M.
Seijo Hall

Access Map

Link to Google Maps

Address: 6-2-1 Seijo, Setagaya-ku, Tokyo
Note: No parking is available. Please use the train or bus.

Access:
By train, take the Odakyu Line, and get off at 'Seijo Gakuenmae'. (4 min walk)
Changes have been made to a performer scheduled to appear in this concert due to inevitable circumstances resulting from the spread of COVID-19. br>
 ■Mari Kodama (piano) → Mari Kodama (piano) [No change]
 ■Momo Kodama (piano) → Yoko Kikuchi (piano)
The music will also be changed accordingly. Please refer to the music list below for more details.

Purchased tickets will remain valid, so bring them on the day of the concert.
They will offer a unique "Around the Piano" experience allowing the audience to surround the two pianists and listen to them from all directions.
Don't miss out on this opportunity to hear exciting music unique to these two fascinating pianists.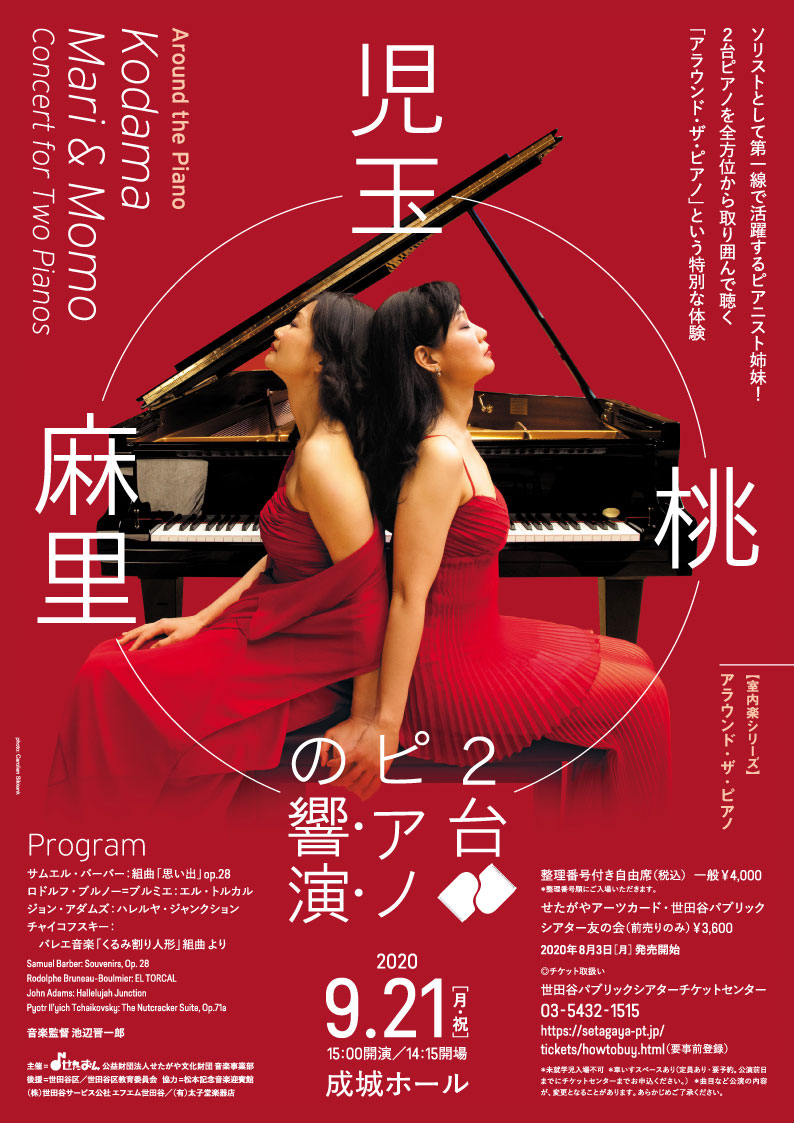 OTTAVA公式YouTubeチャンネル「OTTAVA Live」にて公開中(2021/1/15まで)
---
---
Program

Fauré: Dolly Suite, Op. 56 for piano duet
Beethoven: Piano Sonata No. 14 in C Sharp Minor, "Moonlight," Op. 27, No. 2 (Mari Kodama solo)
Debussy: Moonlight (Yoko Kikuchi solo)
Wagner/Liszt: Isoldes Liebstod, S.447, R.280 (Yoko Kikuchi solo)
[Tchaikovsky: The Three Great Ballet Suites]
The three ballet suites of:
"Sleeping Beauty," Op. 66a (arranged by Rachmaninov)
"Nutcracker," Op. 71a (arranged by N. Economu)
"Swan Lake"
---
Admission fees

Numbered unreserved seats 
General: 4,000yen
Setagaya Arts Card and Setagaya Public Theatre Club members: 3,600yen (advance sales only)
*Admission will be in order of reference number
*Includes consumption tax
*Pre-school children may not enter
*Wheelchair spaces available (limited / reservations required)
Fee: 10% discount with free admission for one escort
Call the Setagaya Public Theatre Ticket Centre (03-5432-1515) by 7:00 P.M. on the day before the performance.
*Reservations will be taken only by phone or online, and tickets will not be sold or issued through the Setagaya Public Theatre Ticket Centre.
*Payments are to be made at 7-Eleven or online using a credit card. Tickets will only be issued through ticket terminals at 7-Eleven.

Start of sales

Monday, August 3, 2020
---
Profile
---
Musical supervision

Shinichiro Ikebe

Sponsor

Setagaya Arts Foundation Music Project Department

Support

City of Setagaya
Setagaya City Board of Education

Cooperation

Matsumoto Memorial Music Guest House
Setagaya General Service Co., Ltd., Community Radio Station FM Setagaya
Taishidou Musical Instrument Store