2nd Series of "Wa, Hana, Shirabe": "The World of Seikin Tomiyama – Ballads, Koto Music, Traditional Kyoto Dance"
Events Details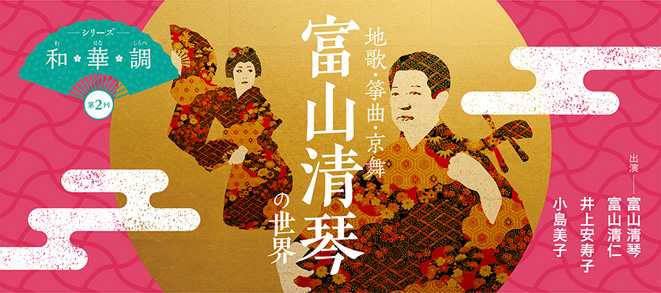 2nd Series of "Wa, Hana, Shirabe": "The World of Seikin Tomiyama – Ballads, Koto Music, Traditional Kyoto Dance"
[Pre-school children may not enter]
Thank you sold out
---
Saturday, June 1, 2019Performance begins at 3:00 P.M.
Seijo Hall

Access Map

Link to Google Maps

Address: 6-2-1 Seijo, Setagaya-ku, Tokyo
Note: No parking is available. Please use the train or bus.

Access:
By train, take the Odakyu Line, and get off at 'Seijo Gakuenmae'. (4 min walk)
By bus, get off at 'Seijo Gakuenmae-eki Kitaguchi' using SEI 01, 02, 04, 05, 06,
TOSE 20, 21. (3 min walk)
Get off at 'Seijo Gakuenmae-eki Minamiguch' using TORITSU 01, TO 12, TAMA 07,
YO 06. (4 min walk)
Get off at 'Seijo Gakuenmae-eki Nishiguchi' using SHIBU 24. (5 min walk)
Note: To get back on the bus, you must go to South gate.
The Series "Wa, Hana, Shirabe" introduces traditional Japanese music. Many people are vaguely familiar with the music, but have few opportunities to listen to it. Listen carefully to discover its hidden charms.
The 2nd Series focuses on "The World of Seikin Tomiyama – Ballads, Koto Music, Traditional Kyoto Dance."
Shamisen music accompanied by singing, and ballads that have been passed down through the generations in Kansai.
Seikin Tomiyama (a living national treasure) plays the kind of soft and elegant traditional music heard in the teahouses of Kyoto. Enjoy his music, brimming with emotion.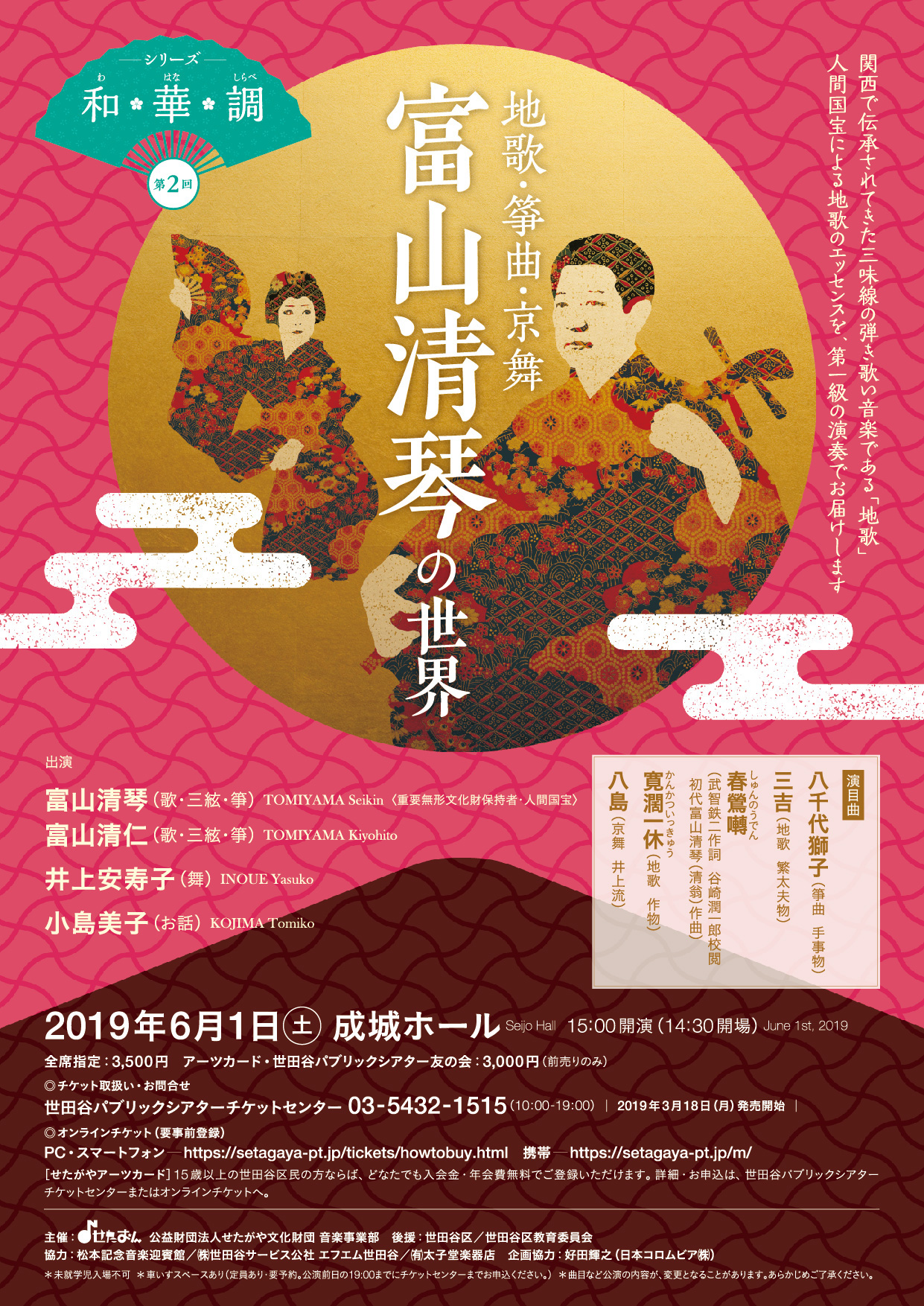 Performers

Seikin Tomiyama (singing, shamisen performances, etc.)
Kiyohito Tomiyama (singing, shamisen performances, etc.)
Yasuko Inoue (dancing)
Tomiko Kojima (storytelling)
---
Program

Yachiyojishi, Miyoshi, Shun-no-den, Kankatsu Ikkyu, Yashima
---
Admission fee

General: 3,500 yen
Setagaya Arts Card and Setagaya Public Theatre Club members: 3,000 yen (advance sales only)

*Reserved seats only / Includes consumption tax
*Pre-school children may not enter
*Wheelchair spaces available (limited / reservations required)
Fee: 10% discount with free admission for one escort
Call the Setagaya Public Theatre Ticket Centre (03-5432-1515) by 7:00 P.M. on the day before the performance.

Start of sales

Monday, March 18, 2019
---
Profile
---
Musical supervision

Shinichiro Ikebe

Sponsor

Setagaya Arts Foundation Music Project Department

Support

Setagaya City Board of Education, City of Setagaya

Cooperation

Matsumoto Memorial Music Guest House, Setagaya General Service Co., Ltd., Community Radio Station FM Setagaya, Taishidou Musical Instrument Store