New Year Concert 2019 Akira Miyagawa World of Ballet
Events Details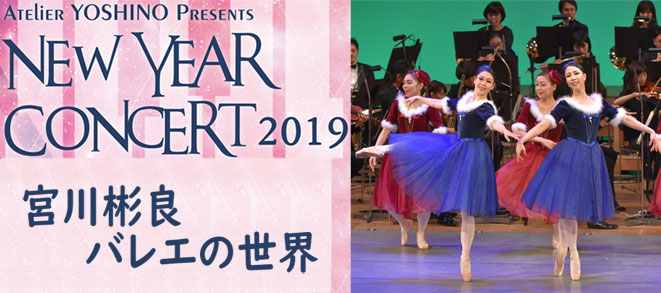 New Year Concert 2019 Akira Miyagawa World of Ballet
---
Sunday, Jan. 13th 2019Curtain time at 4pm
Showa Women's University, Hitomi Memorial Hall

Access Map

Link to Google Maps

Address: 1-7-57 Taishido, Setagaya-ku, Tokyo

Access:
By train: Take the Den-en Toshi Line and get off at 'Sangenjaya', 7 min walk.
This concert brings you Akira Miyagawa's world of ballet and music.
You will enjoy familiar numbers, original tunes and Disney hits arranged in a beautiful symphony.
Performers:

Akira Miyagawa (Composer/Stage Musician)
 >See profile


And more
---
---
Admission Fee:

General Tickets: S-Seats ¥4,500 A-Seats ¥3,500
For Setagaya Arts Card, Setagaya Public Theater(SePT Card) members:
S-Seats ¥4,000, A-Seats ¥3,000 (Advance tickets only)

★All seats reserved / Tax included
★Lap seated child under age 2, no charge
★Wheelchair space available
(Space limited, reservation required) Fee ¥4,000
To reserve seat : Contact Atelier Yoshino Culture Dept. 042-682-6055 (Mon-Fri 10am-6pm)

Ticket Sales

General Tickets go on sale from Oct. 1st, 2018 (Mon)
---
Profile
Akira Miyagawa
Born in Tokyo in 1961. He debuted as a composer for Shiki Theater Company and Tokyo Disneyland shows, and considers himself a 'Stage Musician'. Some of his compositions include "One Man's Dream" "Shintokumaru" "The Hit Parade" and "Matsuken Samba". He is also actively involved in activities conducting concerts across Japan with events such as "Akira Miyagawa & Ensemble Vega" "Akira Miyagawa x Yoshikazu Mera – Futarino Kayo Show" "Concertanti II Akira Miyagawa vs Shin-Nihon Philharmonic Orchestra" "Zero Karano Pantomime/Orchestra" and more.
Based on his principle that 'Concert is a Show' he composes, arranges, conducts, plays piano and makes commentaries winning the approval of a wide audience.
He composes music and appears on NHK-ETV "Quintet", BS2 "Doremifa Wonderland", and BS Premium "Akira Miyagawa's Showtime."
He has also written for the opera "Black Jack", anime "Space Battleship Yamato 2199", Space Battleship Yamato 2202", Thursday Theater's "Chikaemon" and the soundtrack for NHK TV Series "Hiyokko." Since April of 2014, he has been the Special Producer for Setagaya Arts Foundation.
See Website
---
Sponsor

Atelier Yoshino Culture Dept. 042-682-6055 (Mon-Fri 10am – 6pm)

Co-sponsors

Public Interest Foundation Corporation, Setagaya Arts Foundation, Music Division
General Incorporated Association Mirai Music Planning