Wa, Hana, Shirabe Series No. 6Yogukitaneshi, the World of Tsugaru Folk Songs: Songs, Shamisen and Teodori
Events Details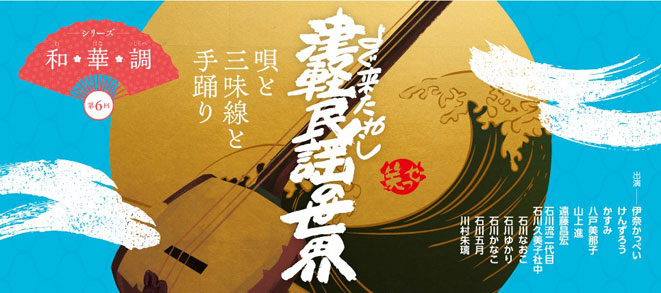 Wa, Hana, Shirabe Series No. 6
Yogukitaneshi, the World of Tsugaru Folk Songs: Songs, Shamisen and Teodori
Pre-school children may not enter
---
Sunday, February 4, 2024  Starts at 4:00 P.M. (venue opens at 3:30 P.M.)
Karasuyama Kumin Kaikan Hall

Access Map

Link to Google Maps

Address: 6-2-19 Minamikarasuyama, Setagaya City, Tokyo
* No parking spaces are available. Please come by train or bus.

Access: 1 minute on foot from the North Exit of Chitose-karasuyama Station
By bus: Chitose-karasuyama-eki Bus Stop on the Odakyu Bus / Keio Bus
In the old days, Tsugaru folk songs were filled with laughter.
Tsugaru-jamisen is so popular, it is in a class of its own. But that's not all Tsugaru folk songs have to offer! Enjoy the powerful world of singing, dancing and shamisen brought together by performers from Aomori, the place of their origin, accompanied by the Tsugaru dialect of the dialect poet, Kappei Ina !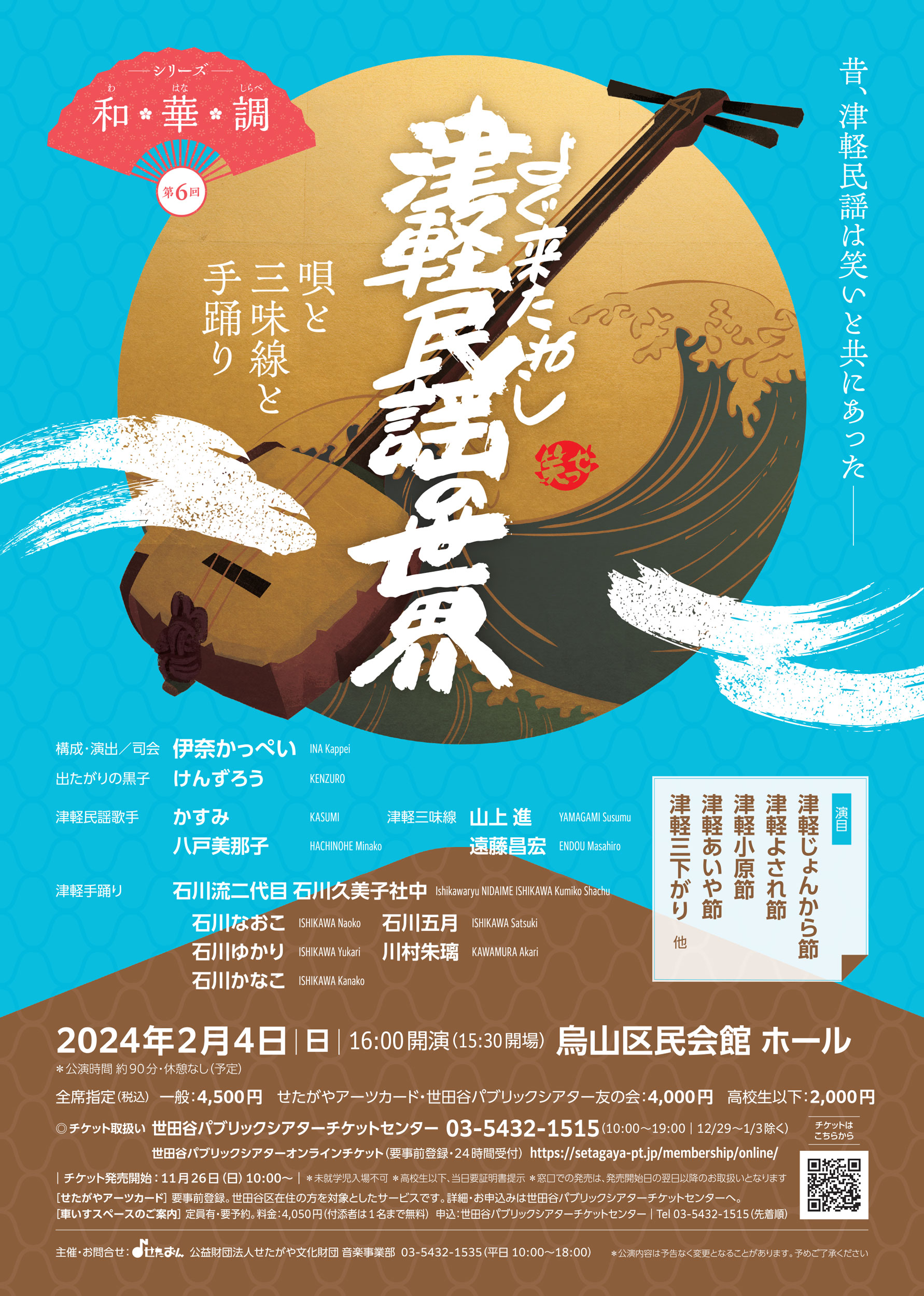 Click here for flyer (PDF file)
---
In today's world, it seems that Tsugaru folk songs are only known for the Tsugaru-jamisen, but it is actually songs and dances which prop up this shamisen. I hope people will enjoy the immersive experience like actually "being in Tsugaru," through this fusion of songs, dances and shamisen.
Come and experience the feeling of traveling to Aomori through the top-class performance of artists who have won numerous awards.
Kappei Ina
Performers

Kappei Ina (composer, director/MC) profile…

Kenzuro (a kuroko who wants to be seen)

Susumu Yamagami (Tsugaru-jamisen, shakuhachi, flute) profile…

Masahiro Endo (Tsugaru-jamisen)

Kasumi (Tsugaru folk singer) profile…

Minako Hachinohe (Tsugaru folk singer)

Ishikawa School Second Generation, Kumiko Ishikawa Troupe [Naoko Ishikawa, Yukari Ishikawa, Kanako Ishikawa, Satsuki Ishikawa, Akari Kawamura (Tsugaru Teodori) profile…
---
Program

Tsugaru Jonkara-bushi
Tsugaru Yosare-bushi
Tsugaru Ohara-bushi
Tsugaru Aiya-bushi
Tsugaru Sansagari, among others
---
Admission fees

General: 4,500yen
Setagaya Arts Card and Setagaya Public Theatre Club members: 4,000yen (advance sales only)
High school students or below: 2,000yen(must show ID on day)
*Reserved seats only / Includes consumption tax
*Pre-school children may not enter
*IDs: IDs showing date of birth, e.g., student IDs, health insurance cards (copies accepted)

*Wheelchair spaces available (limited / reservations required)
Fee: 4,050yen with free admission for one escort
Call the Setagaya Public Theatre Ticket Centre (03-5432-1515) by 7:00 P.M. on the day before the performance.

Start of sales

10:00 A.M. Sunday, November 26, 2023

*Tickets will be sold online and via telephone on the first day of sales. They will become available over the counter from the following day.

Miscellaneous

Concert around 90 minutes / No breaks (planned)
---
Profile
---
Sponsor

Setagaya Arts Foundation Music Project Department

Support

City of Setagaya
Setagaya City Board of Education

Cooperation

Office Goo
RAB Enterprise Co., Ltd.
Matsumoto Memorial Music Guest House
Setagaya General Service Co., Ltd., Community Radio Station FM Setagaya
Taishidou Musical Instrument Store

Planning and cooperation

Teruyuki Yoshida (NIPPON COLUMBIA CO., LTD.)