Seta-on Machinaka ConcertHeavenly Resonance , a Gentle Winter: The World of Classical A Cappella
Events Details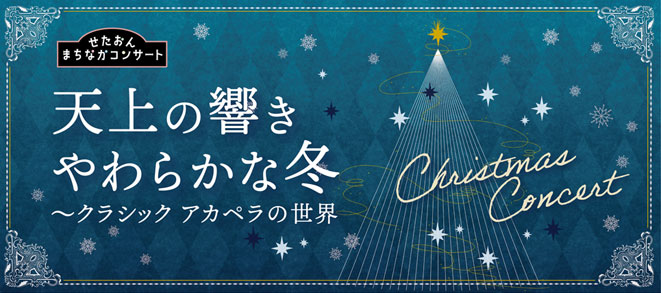 Seta-on Machinaka Concert
Heavenly Resonance , a Gentle Winter: The World of Classical A Cappella
---
Sunday, December 17, 2023(1) Starts at 12:00 noon (40 minutes) (2) Starts at 3:30 P.M. (60 minutes)
Kitazawa Town Hall

Access Map

Link to Google Maps

Address: 2-8-18 Kitazawa, Setagaya-ku, Tokyo

Access:
By train: Take the Odakyu Line or Keio Inokashira Line, and get off at 'Shimokitazawa Stn.' North gate and walk for 5 mins.

Note: Shimokitazawa Stn. is undergoing construction and you may be directed to exit from a different gate.
Casually enjoy live music in everyday life (Seta-on Machinaka Concert)
This concert will deliver a live Christmas performance by Ensemble Planeta , an all women's a cappella group creating a unique atmosphere with a touch of medieval Europe and a blend of clear, tranquil sounds.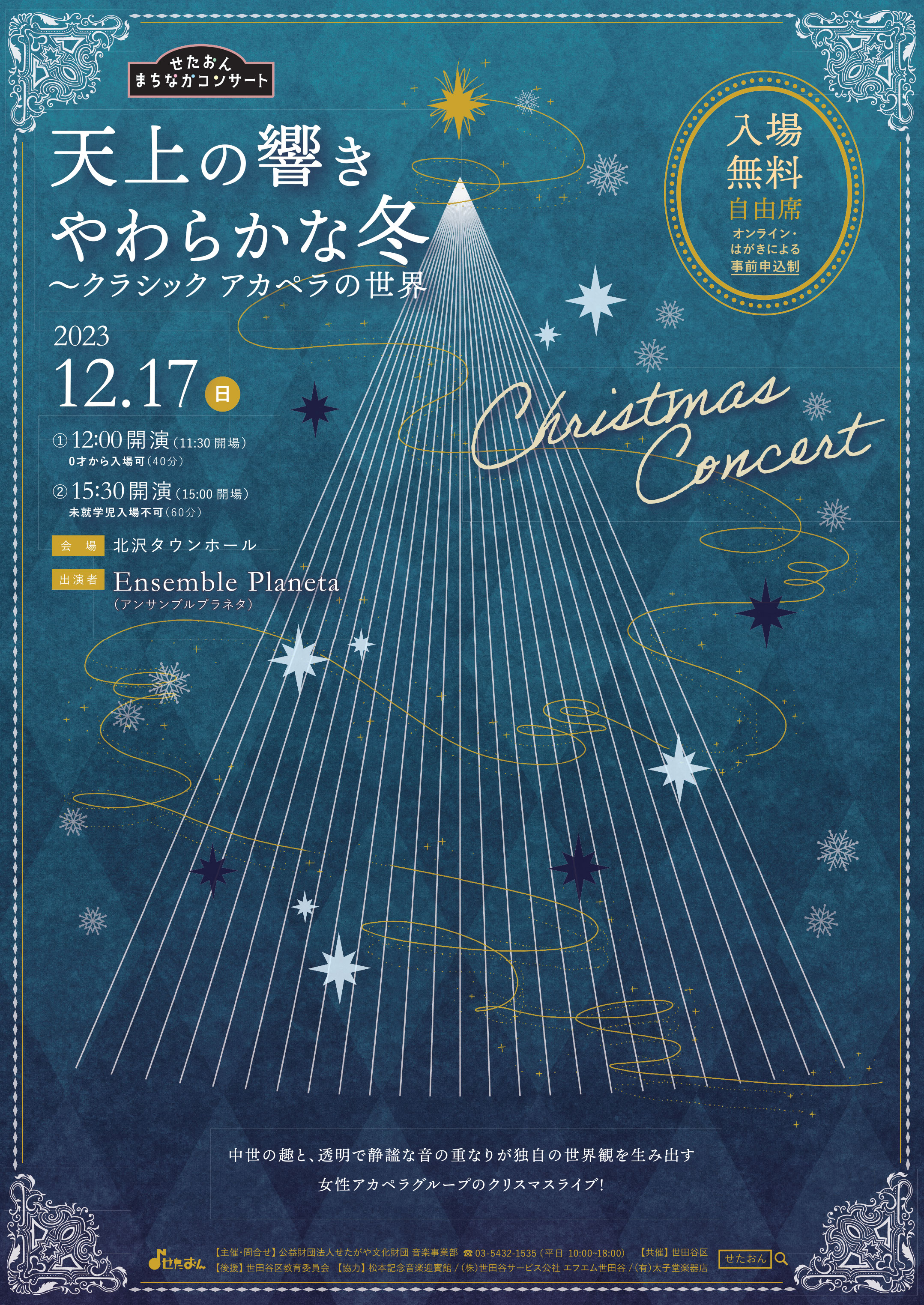 ---
Performers

Ensemble Planeta (a cappella group) profile…
---
Program

Pachelbel's Canon
The First Noel, etc.
---
About the performance

Must be booked in advance
Free seats and free admission
Apply online (first-come-first-served) or by postcard (draw)

*(1) The 12:00 noon performance may also be attended by infants aged 0 (children aged 2 or below may sit in an adult's lap, but those aged 3 or over must apply for a seat).
*(2) The 3:30 P.M. performance may not be attended by children pre-school aged or below.

*Wheelchair spaces available (limited / contact the Music Project Department by 6:00 P.M. on Friday, December 15. Phone 03-5432-1535 (10:00 A.M. – 6:00 P.M. on weekdays)
---
How to Apply

Apply [online (first-come-first-served)]

Apply online from below (jump to external site, "teket")
▼Application for Machinaka Online
Application period: 10:00 A.M. on Friday (public holiday), November 3 – 11:59 P.M. on Saturday, December 16
*One application only for up to four people per account

---

Apply by [postcard (draw)]

Fill out (1) to (5), then send to address below

(1) Performance (12:00 noon or 3:30 P.M.)
(2) Postal code and address
(3) Full name of representative
(4) Number of people (up to two people)
(5) Phone number
 

(Send to)
5th Floor, 4-1-1 Taishido, Setagaya City, Tokyo 154-0004
Person in charge of the Seta-on Machinaka Concert, Music Project Department, Setagaya Arts Foundation

[Deadline for applications] Must arrive by Thursday, November 30
Only successful applicants will be notified via postcard (to be sent around Monday, December 4)
---
profile
---
Sponsor

Setagaya Arts Foundation Music Project Department

Cosponsor

City of Setagaya

Support

Setagaya City Board of Education

Cooperation

Matsumoto Memorial Music Guest House
Taishidou Musical Instrument Store
Setagaya General Service Co., Ltd., Community Radio Station FM Setagaya