Summer Vacation with ThereminsMachiko Machikado's Machikado Theremin
Events Details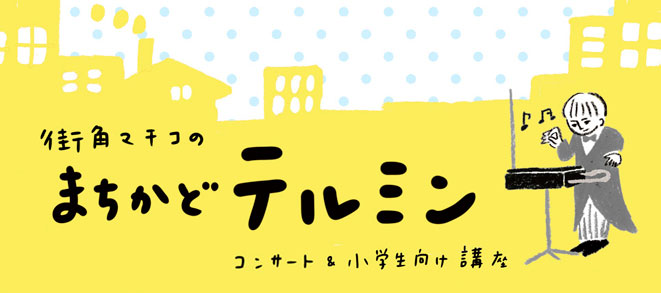 Summer Vacation with Theremins
Machiko Machikado's Machikado Theremin
The performance has finished
---
Wednesday, August 30, 2023
Umegaoak Park Hall

Access Map
The theremin is a mysterious musical instrument that emits sounds without even having to touch it. It is the world's oldest electronic musical instrument! A concert will be held for people to enjoy its unique and warm sound up close. Workshops will also be held for elementary school students to explore its mysteries and experience playing it.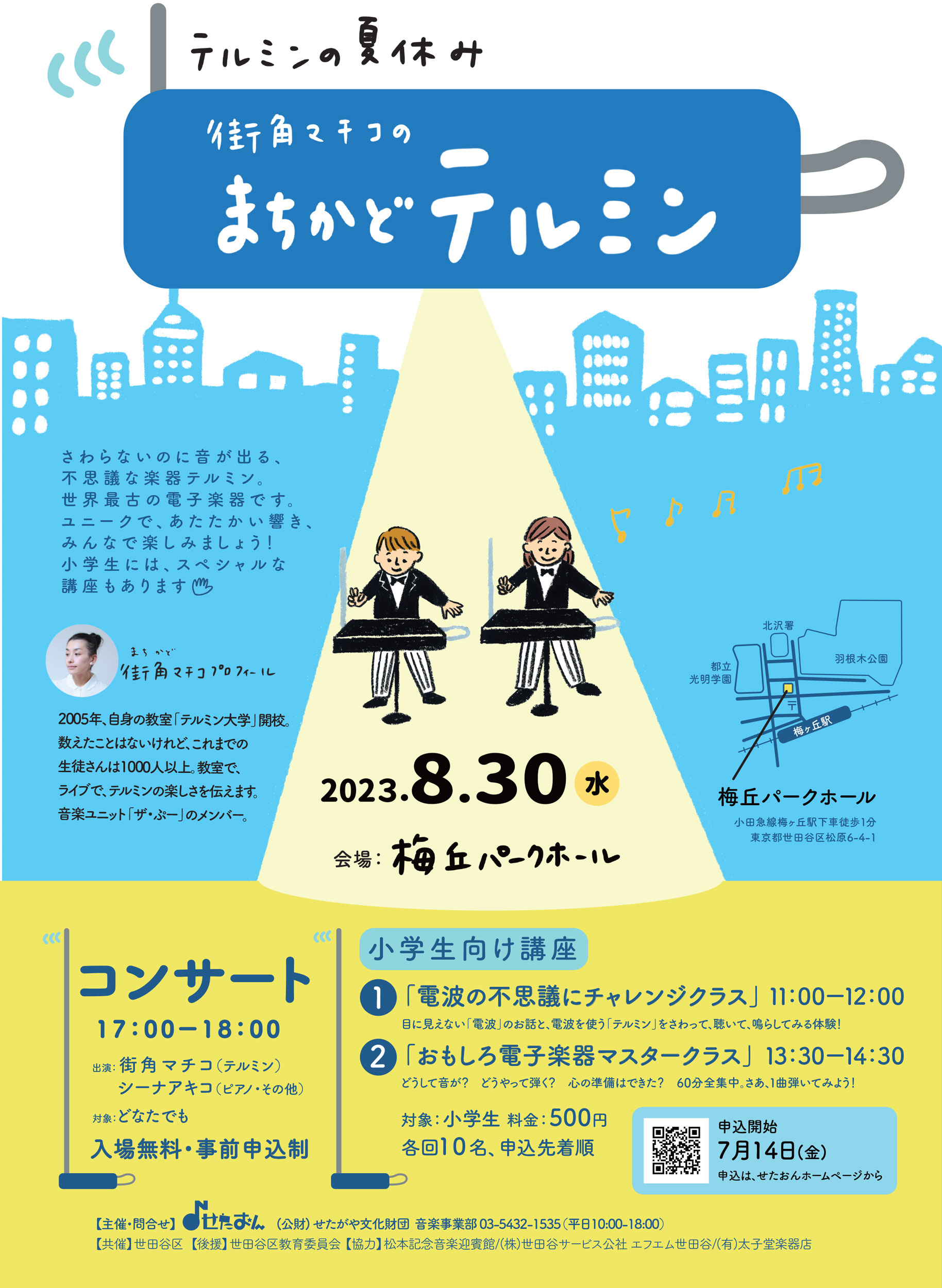 ---
[Workshops for elementary school students] (60 minutes per session)
(1) "Class to Take on the Challenges of Exploring the Mysteries of Electromagnetic Waves." Starts at 11:00 A.M.
*A workshop to learn about invisible electromagnetic waves and experience touching, listening to, and playing the theremin!
(2) "Class for Mastering the Fun Electronic Musical Instrument." Starts at 1:30 P.M.
*How does it make sounds? How do you play it? Are you ready for it? Become fully focused for 60 minutes. So, let's play a tune on it!
Instructor

Machiko Machikado profile…

Aimed at

Elementary school children

Capacity

10 children per session

Admission fee

[Reservations required] 500 yen

How to apply

Please apply online from below (connects to form handler on external site).
*First-come-first-served.

▼ (1) Book for the 11:00 A.M. session

▼ (2) Book for the 1:30 P.M. session

*If all the seats have already been taken, a message will appear saying, "We have currently stopped responding to applications." We will resume the accepting of reservations in the event of cancellations.

Start of reservations

10:00 A.M. Friday, July 14, 2023
---
---
[Concert]
Starts at 5:00 P.M. (doors open at 4:45 P.M.)
Performers

Aimed at

Everybody welcome

Admission fee

[Reservations required]Unreserved seats, free

How to apply

Please apply online from below (connects to the external site, "teket").
*First-come-first-served.

*If all the seats have already been taken, a message will appear saying, "Sold out." We will resume the accepting of reservations in the event of cancellations.

Start of reservations

10:00 A.M. Friday, July 14, 2023
---
Profile
---
Sponsor

Setagaya Arts Foundation Music Project Department

Cosponsor

City of Setagaya

Support

Setagaya City Board of Education

Cooperation

Matsumoto Memorial Music Guest House
Setagaya General Service Co., Ltd., Community Radio Station FM Setagaya
Taishidou Musical Instrument Store