[Special program for children]Aki Kuroda: One-off music class
Events Details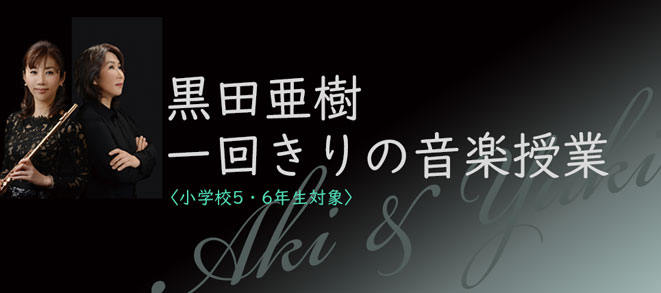 [Special program for children]
Aki Kuroda: One-off music class
The performance has finished
---
Thursday, August 24, 20232:00 P.M. – 3:00 P.M.
Setagaya Art Museum-Auditorium

Access Map
Sisters, Aki & Yuki Kuroda's Dance! Reverberate! Music!
What if an international pianist was your music teacher at school?! That dream is about to come true!!
The performance by the Kuroda sisters, with its fantastic rhythm, will make you want to dance. Come and experience the secret behind the vibrations of sound and the exciting rhythm! Come and compare the sounds of different types of flutes, including the shinobue, a Japanese flute, piccolo and bass flute. There is also a hands-on corner where children can experience playing flutes. Enjoy a moment of great fun over summer.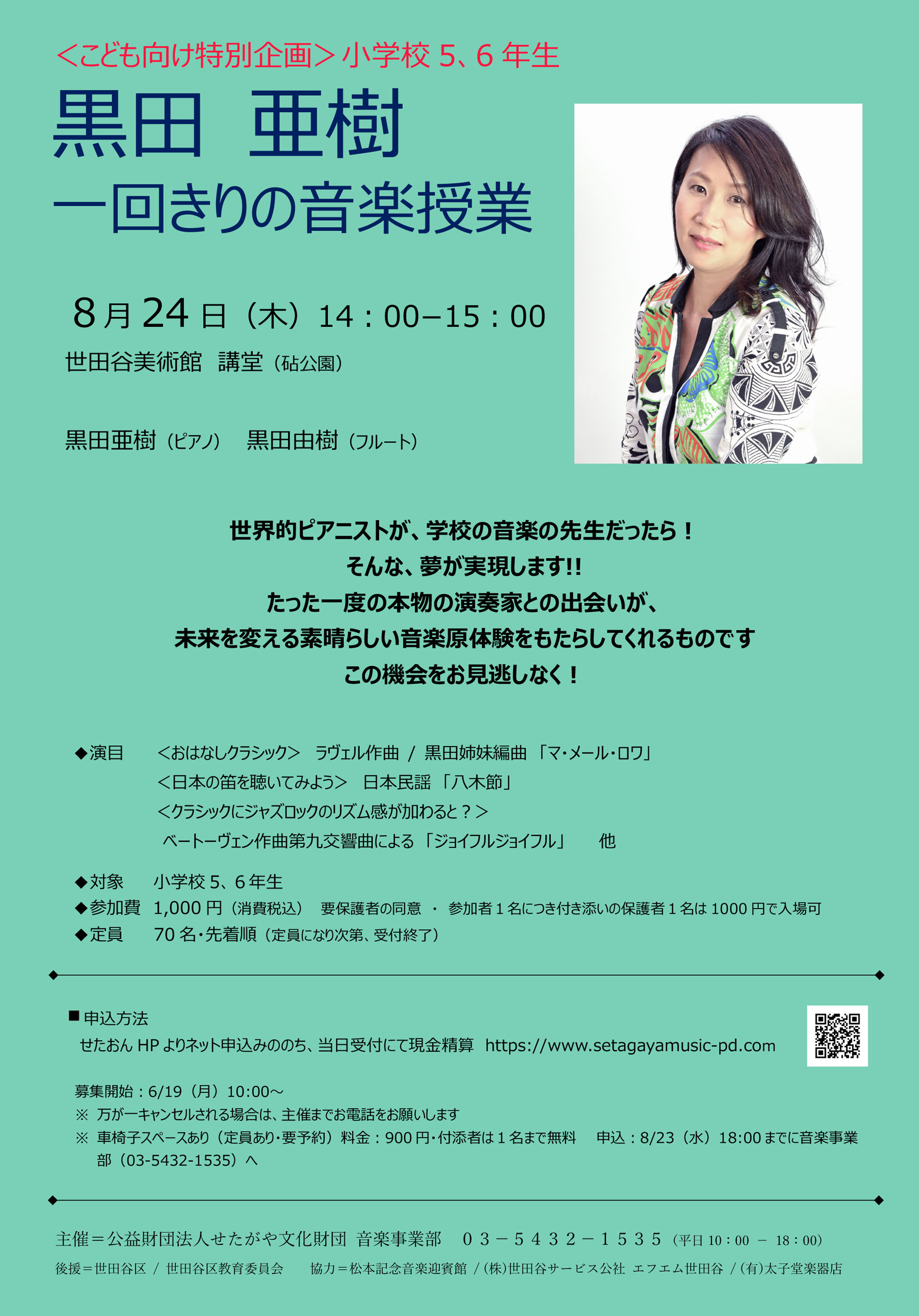 ---
---
Aimed at

5th and 6th grade elementary school children
---
Fee

[Reservations required]1,000yen (includes consumption tax)
★Pay in cash on the day

*Children may attend on their own (with approval from their guardians)
*Wheelchair spaces available (limited / reservations required)
Fee: 900 yen with free admission for one escort
Applications: Call the Music Division (03-5432-1535) by 6:00 P.M. on Wednesday, August 23
---
How to apply

Please apply online from below (connects to form handler on external site).

*First-come-first-served. Maximum of 70 people

▼[Aki Kuroda] One-off music class. Apply

*If all the seats have already been taken, a message will appear saying, "We have currently stopped responding to applications." We will resume the accepting of reservations in the event of cancellations.

Start of reservations

10:00 A.M. Monday, June 19, 2023
---
▼Setagaya Art Museum official website (access information)
---
Profile
---
Sponsor

Setagaya Arts Foundation Music Project Department

Support

City of Setagaya
Setagaya City Board of Education

Cooperation

Matsumoto Memorial Music Guest House
Setagaya General Service Co., Ltd., Community Radio Station FM Setagaya
Taishidou Musical Instrument Store