Seta-on Machinaka ConcertSetagaya Obotchamars clarinet ensemble
Events Details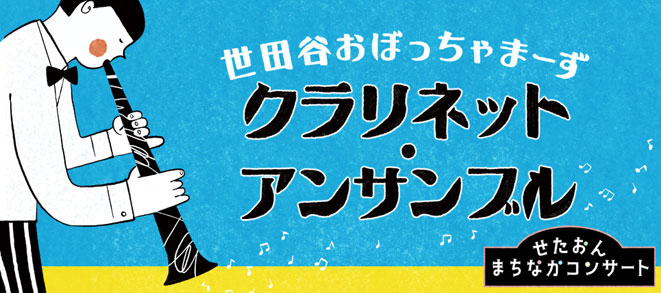 Seta-on Machinaka Concert
Setagaya Obotchamars clarinet ensemble
The performance has finished
---
Sunday, June 4, 2023Performances (45 minutes each) start at ① 12:00 noon ② 3:00 P.M.
Tamagawa Seseragi Hall

Access Map
Seta-on Machinaka Concert allows free and easy enjoyment of live performances in everyday life.
Setagaya Obotchamars, a clarinet ensemble that is refined, yet somewhat idyllic, will perform this time! Feel the approaching of summer in the refreshing sound of the wooden pipes.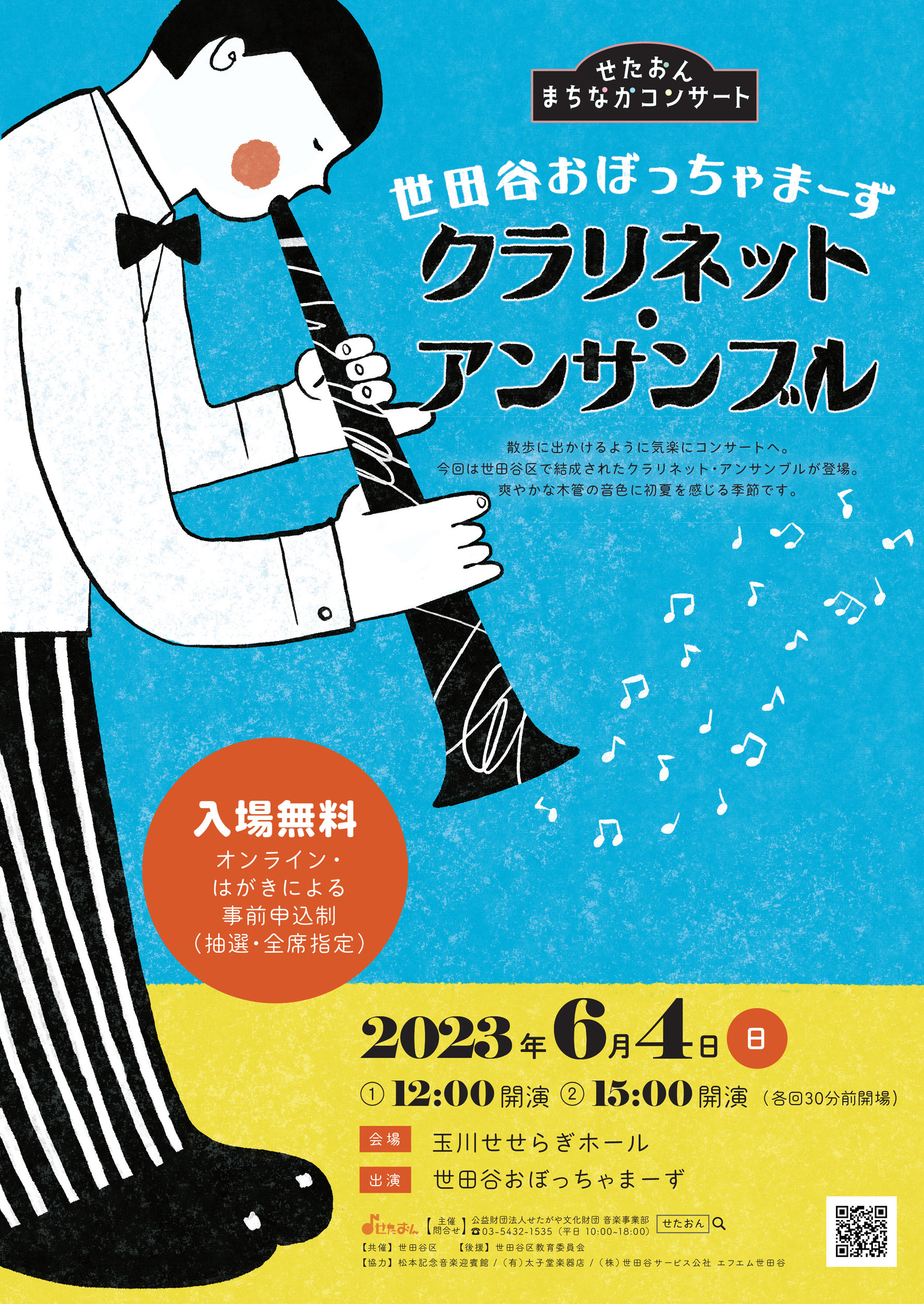 ---
Performers

Setagaya Obotchamars (clarinet ensemble) profile…
---
Program

Totoro medley
Fuga y Misterio
From Le Carnaval des Animaux  Others
---
About the performance

– Be sure to book in advance. Admission is free.
– Only reserved seats available (seats cannot be designated)
Apply online or via post card
Applications have closed

*Only children aged 2 or below may sit in their guardians' laps (seats must be booked for children aged 3 or over).
*Wheelchair spaces available (limited / contact the Music Project Department by 6:00 P.M. on Thursday, May 11 [phone 03-5432-1535])

*Please make sure you understand the "Measures implemented at Seta-on to prevent the spread of COVID-19 infections and request for visitors" before coming to the venue.
---
How to Apply

Applying Online

Apply via the separate site below

▼Setagaya Public Theater Ticket Center (Registration Required Before Use)

[Application period] 10:00 A.M. on Sunday, April 30 – 11:59 P.M. on Monday, May 15 [day of lucky draw]
Successful applicants will be notified
*One draw per account for up to four people

---

[Post card] Application

State that you "wish to see the Seta-on Machinaka Concert." Then provide information for ① to ⑤ and send it to the address below.

① Time (12:00 noon or 3:00 P.M.)
② Number of people (up to two)
③ Name of representative
④ Postal code and address
⑤ Phone number 

(Address)
5th Floor, 4-1-1 Taishido, Setagaya City 154-0004
Person in charge of the Seta-on Machinaka Concert, Setagaya Arts Foundation Music Project Department

[Deadline for applications] Must arrive by Thursday, May 11
[Lucky draw]
Monday, May 15. Only successful applicants will be notified via post card (to be sent around Wednesday, May 17)
---
profile
---
Sponsor

Setagaya Arts Foundation Music Project Department

Cosponsor

City of Setagaya

Support

Setagaya City Board of Education

Cooperation

Matsumoto Memorial Music Guest House
Taishidou Musical Instrument Store
Setagaya General Service Co., Ltd., Community Radio Station FM Setagaya