[Advertising for] New Members for the FY 2023 "Setagaya Junior Orchestra"
Events Details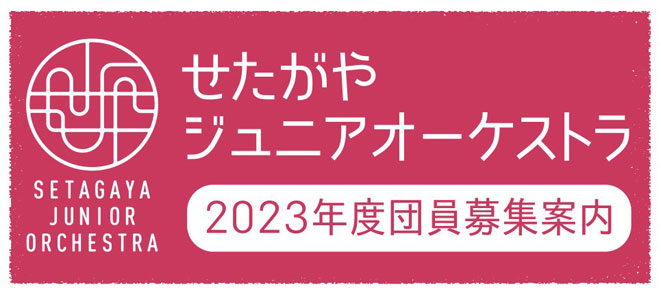 [Advertising for] New Members for the FY 2023 "Setagaya Junior Orchestra"
ご応募は締め切りました
---
Application deadline: Tuesday, January 31, 2023
Advertising for new members for FY 2023.
Come and make new discoveries through music and musical instruments. We look forward to receiving your applications.
Application Requirements

– Ability to greet people and answer clearly
– Ability to work within a team
– Ability to read musical scores
– Ability to take part in practices at all times (except when engaging in school activities) and attend by oneself as much as possible
– Ability to take the initiative in taking part in activities and striving with other orchestra members

Eligible Applicants

Applicants must live in or attend a school in Setagaya City, and be below 2nd-year high school age (as of April 2023). However, the age limit shall be 19 for viola, cello, contrabass and bassoon players.

*University students majoring in musical instruments cannot apply. However, viola and contrabass players are welcome.

Openings

String instruments: Violin & viola, cello, contrabass
Woodwind instruments: Flute, oboe, clarinet, bassoon
Brass instruments: Horn, trumpet, trombone, bass trombone, tuba
Percussions

*All instruments have their own requirements

Selection Method

1. Document screening
2. Audition (planned for late February to early March)

Application Deadline

Must arrive by Tuesday, January 31, 2023
Send by post

*Applications by phone, fax or e-mails will not be accepted

Application Requirements and Form

Go to the "Application Guide" page on the SJO website.
---
Inquiries

Person in charge of the Junior Orchestra
Music Project Department, Setagaya Arts Foundation
5th floor Carrot Tower , 4-1-1 Taishido, Setagaya City 154-0004

Phone: 03-5432-1535 (10:00 A.M. – 6:00 P.M. weekdays)
*Closed December 29 – January 3, 2023