Commemorative Ceremony and Event for the Setagaya City 90th Anniversary
Events Details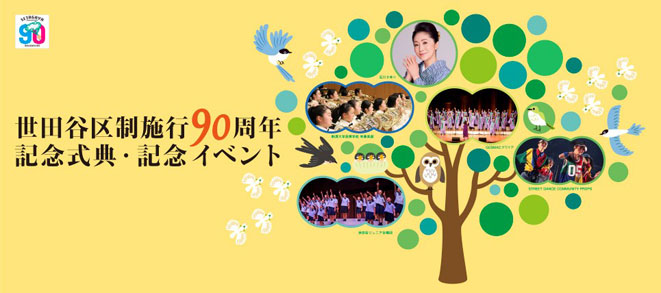 Commemorative Ceremony and Event for the Setagaya City 90th Anniversary
Reservations required
---
Sunday, October 16, 2022 1:00 P.M. – 4:00 P.M.
Showa Women's University, Hitomi Memorial Hall

Access Map

Link to Google Maps

Address: 1-7-57 Taishido, Setagaya-ku, Tokyo

Access:
By train: Take the Den-en Toshi Line and get off at 'Sangenjaya', 7 min walk.
Setagaya City will commemorate its 90th anniversary this year.
A commemorative event will be held to give out awards and show our respect and gratitude to the citizens who contributed to the growth of the city.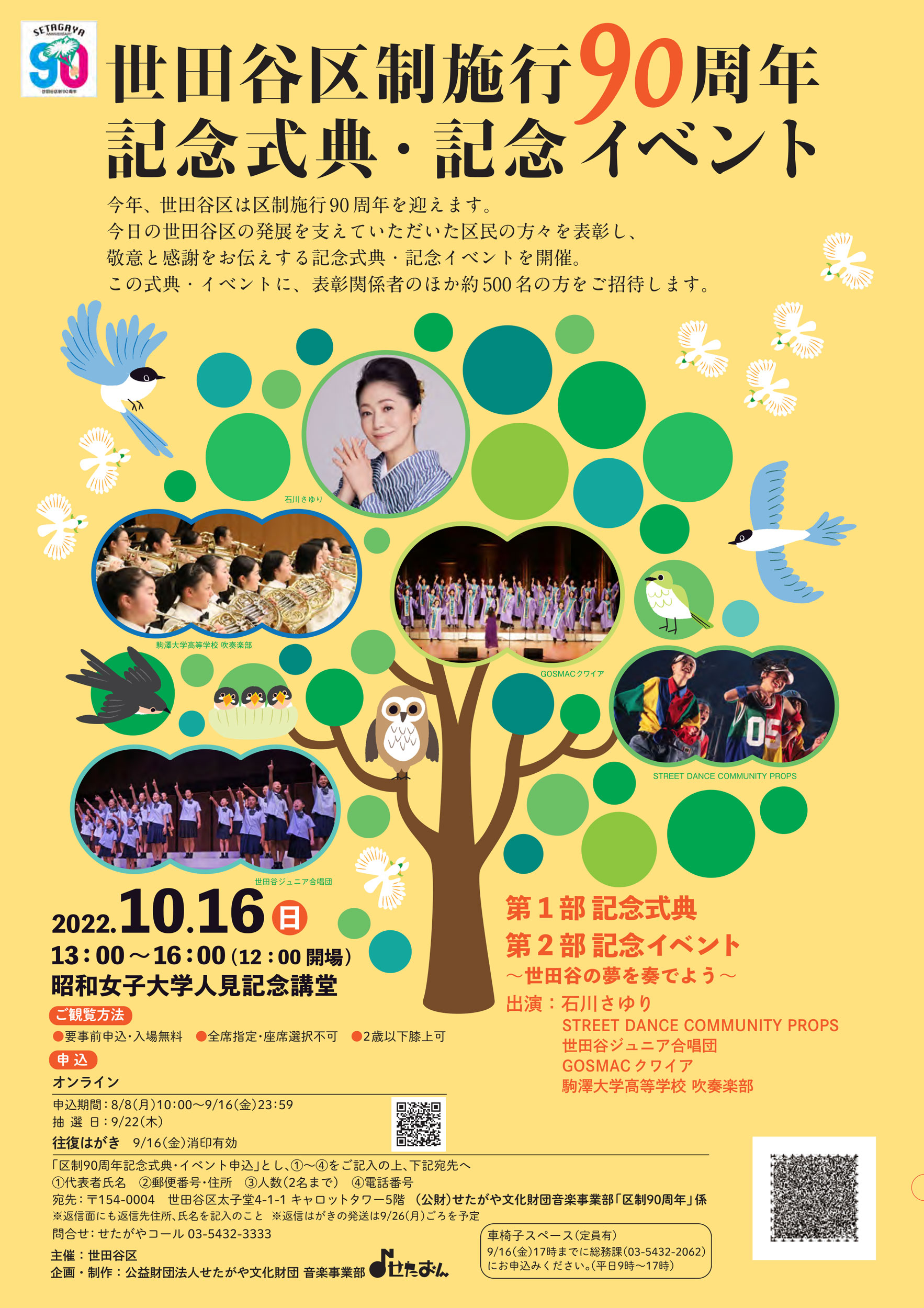 ---
Part 1

Commemorative ceremony

Part 2

Commemorative event
Let's Perform for the Future of Setagaya City

Performers
---
Admission fee

Free [reservations required]

*Reserved seats only. Seats cannot be designated.
*Children age 2 or under may sit in an adult's lap.
* Wheelchair spaces available (limited / reservations required)
Reservations: Call the Setagaya City General Affairs Division (03-5432-2062: 9:00 A.M. – 5:00 P.M. on weekdays) by 5:00 P.M. on Friday, September 16.

Applications

Apply in advance to enter a draw.
Apply by either of the methods below.

[Online]
Application period: 10:00 A.M. on Monday, August 8 – 11:59 P.M. on Friday, September 16
Apply on: Setagaya City 90th Anniversary site (Setagaya City website)
Day of draw: Applicants will be notified of the results via their registered e-mail addresses on Thursday, September 22.

[Reply-paid postcard]
Application deadline: Friday, September 16 (postmark deadline)
How to fill out reply-paid postcard: Write "Application to attend the Setagaya City 90th Anniversary Event" and write (1) to (4), then send to the address below.
(1) Name of representative
(2) Postal code and address
(3) Number of people (maximum of 2)
(4) Phone number
[Send to]
Person in charge of the 90th anniversary

*Write name and return address on return postcard.
*Return postcards will be sent out around Monday, September 26.

Miscellaneous

– Be sure to check our " Measures to prevent the spread of COVID-19" on the Setagaya City website before applying or coming to the venue.

– Guests are asked to wear masks.

– Guests are to cooperate in taking temperature readings before entering. Entering the venue may take some time, so be sure to come early.
---
Profile
---
Sponsor

City of Setagaya

Inquiries
Setagaya Call (open year-round / 8:00 A.M. – 9:00 P.M.)
Phone: 03-5432-3333

Support

Setagaya Arts Foundation Music Project Department