Setagaya Music Fes in Kinuta
Events Details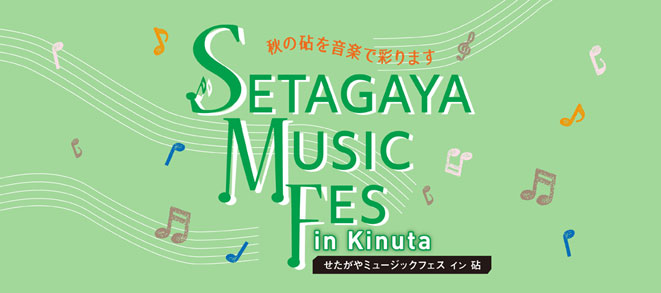 Setagaya Music Fes in Kinuta
公演は終了しました
---
Sunday, September 18, 2022Starts at 4:00 P.M.
Seijo Hall

Access Map

Link to Google Maps

Address: 6-2-1 Seijo, Setagaya-ku, Tokyo
Note: No parking is available. Please use the train or bus.

Access:
By train, take the Odakyu Line, and get off at 'Seijo Gakuenmae'. (4 min walk)
The concert aims to vitalize the Kinuta area through music, including singing, performing and dancing.
Enjoy performances by musical groups and guests.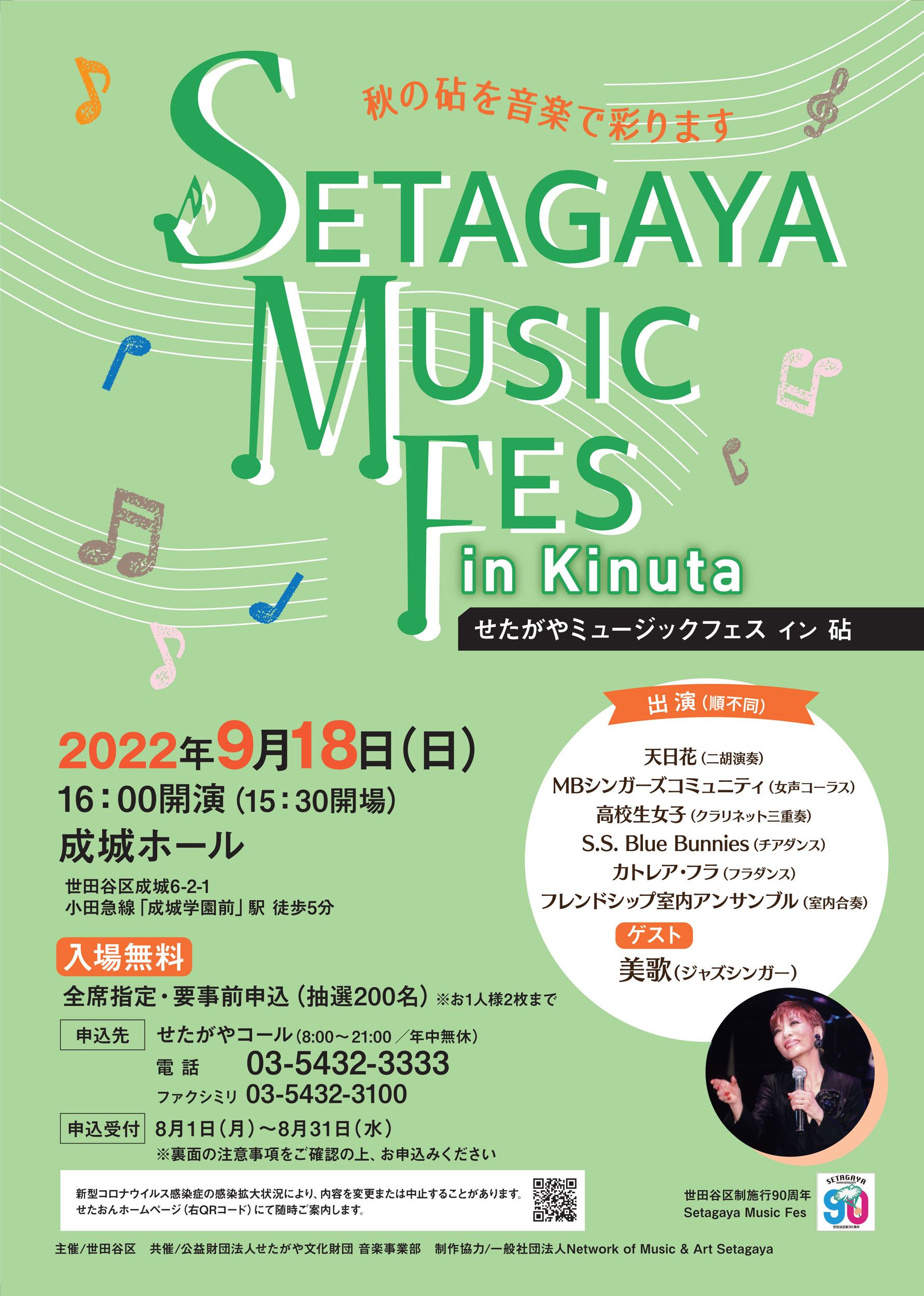 Performers (in random order)

Tian Ri Hua (erhu player)
MB Singers' Community (women's chorus)
High School Girls (clarinet trio)
S.S. Blue Bunnies (cheer dancing)
Cattleya hula (hula dancing)
Friendship Chamber Ensemble (chamber music)

Guests

Mika (jazz singer) profile…

[MIKA'S BAND]
Atsuo Sakai (piano)
Hidetaka Koeda (guitar)
Masashi Odaka (bass)
Takayasu Inagaki (drums)
Setsuko Nakafuji (violin)

Music performed by guests

Moonlight Serenade
Paper Moon
Get Out and Get Under the Moon
Riverside Hotel
Wine Red no Kokoro, etc.

*Songs are subject to change
---
Admission fees

[Free] Reserved seats only. Apply in advance (to enter a draw with 200 winners)
*Maximum of two tickets per person
*Wheelchair space available (limited number / reservations required)

Application period

Monday, August 1 – Wednesday, August 31, 2022

Applications to

[Setagaya Call] (8:00 A.M. – 9:00 P.M. Seven days a week)
Phone: 03-5432-3333
Fax: 03-5432-3100

Miscellaneous

Winners will be notified by post card (planned posting date is September
6).

*Be sure to read "A Request for Visitors to Prevent the Spread of COVID-19" before coming to the venue.
---
Profile
---
Sponsor

City of Setagaya

Cosponsor

Setagaya Arts Foundation Music Project Department

Cooperation in production

Network of Music & Art Setagaya

Inquiries

Cultural and International Affairs Division, Setagaya City
Phone: 03-6304-3427
世田谷区制施行90周年記念事業