Akira Miyagawa's Setagaya Music Research Institute #13Gyuuttonatte Doon! (Squeeze tight, then explode!)
Events Details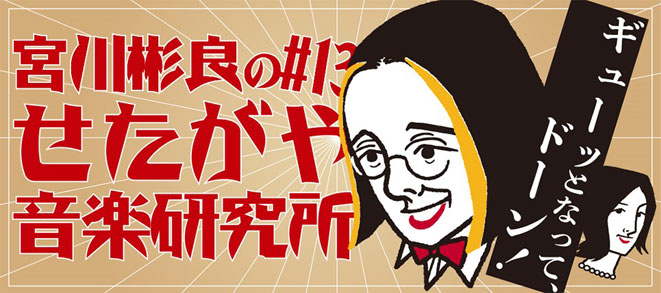 Akira Miyagawa's Setagaya Music Research Institute #13
Gyuuttonatte Doon! (Squeeze tight, then explode!)
Pre-school children may not enter
[Tickets sold out] No tickets available on the day
---
Thursday (public holiday), September 23, 2021Starts at 5:00 P.M.
Kitazawa Town Hall

Access Map

Link to Google Maps

Address: 2-8-18 Kitazawa, Setagaya-ku, Tokyo

Access:
By train: Take the Odakyu Line or Keio Inokashira Line, and get off at 'Shimokitazawa Stn.' North gate and walk for 5 mins.

Note: Shimokitazawa Stn. is undergoing construction and you may be directed to exit from a different gate.
Setagaya Music Research Institute offers talks and music brimming with humor, on the secrets and tricks behind music, presented by Director Akira.
This event will be joined by radio personality, Ms. Misa Tamagawa, to promote ways of enjoying music, which flows freely from the director's heart, soul and every other aspect of his life, as well as the charms of songs from the Showa period.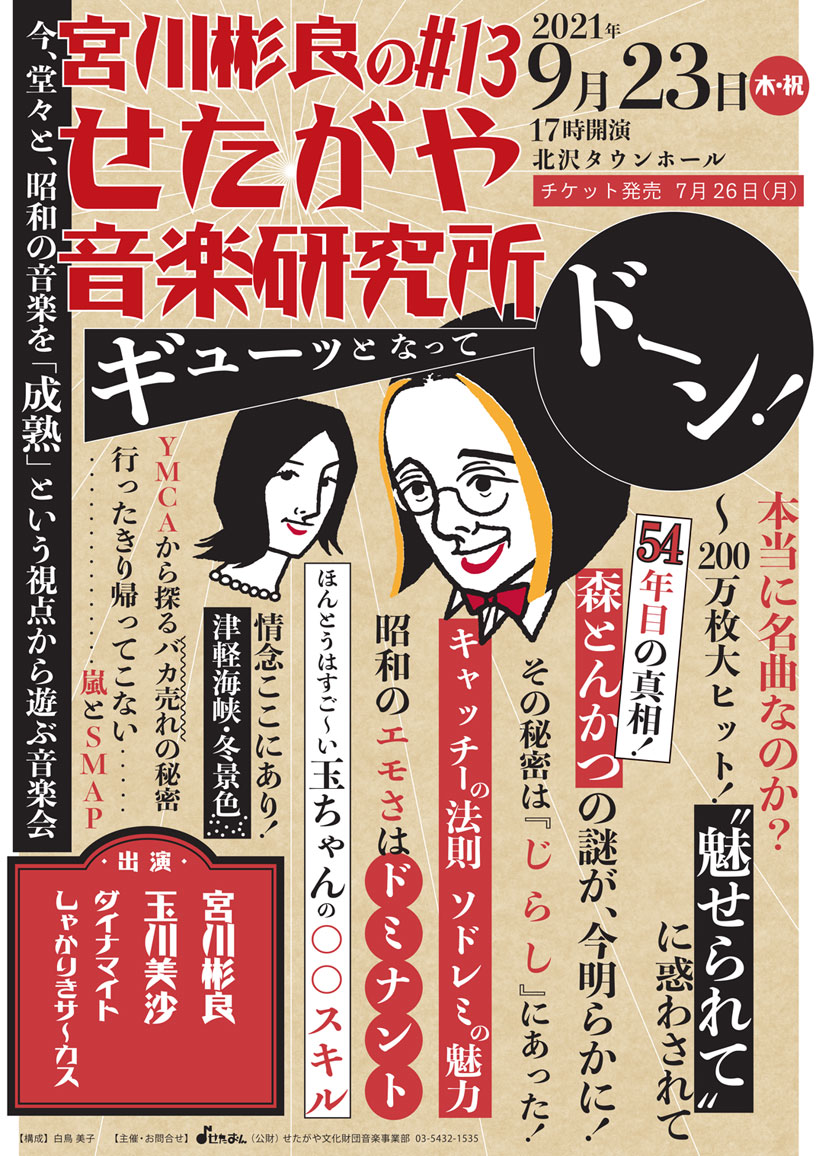 ◆Measures will be implemented to prevent the spread of infection with COVID-19 during performances, but with the state of emergency in place, those who wish to be refunded for canceled tickets should click on the link below:
Refunds for canceled tickets (PDF file)
---
Performers
---
Admission fee

General: 4,000yen
Setagaya Arts Card and Setagaya Public Theatre Club members: 3,500yen (advance sales only)
*Reserved seats only / Includes consumption tax
*Pre-school children may not enter

*Wheelchair spaces available (limited / reservations required)
Fee: 10% discount with free admission for one escort
Call the Setagaya Public Theatre Ticket Centre (03-5432-1515) by 7:00 P.M. on the day before the performance.

*Tickets will only be sold by phone or online. Tickets will not be sold or issued through the Ticket Centre.
*Payments are to be made at 7-Eleven or online using a credit card.
*Tickets will only be issued through ticket terminals at 7-Eleven (handling fee of 110 yen will be charged per ticket).
*Be sure to read "A Request for Visitors to Prevent the Spread of COVID-19" before coming to the venue.

Start of sales

Monday, July 26, 2021
---
Profile
---
Sponsor

Setagaya Arts Foundation Music Project Department

Support

City of Setagaya
Setagaya City Board of Education

Cooperation

Setagaya General Service Co., Ltd., Community Radio Station FM Setagaya
Matsumoto Memorial Music Guest House
Taishidou Musical Instrument Store