Musical Trip around the World
Events Details
Musical Trip around the World
[Tickets sold out] No tickets available on the day
---
July 18 (Sun.) and 25 (Sun.), 2021: (1) 11:30 A.M. (2) 3:00 P.M.
Setagaya Art Museum-Auditorium

Access Map
Special concert to be held offering simultaneous enjoyment of art, with a ticket to the "Contemporary Art of the Globalization Era" exhibition at Setagaya Art Museum!
The Setagaya Junior Orchestra (SJO) ensemble will perform music with the unique rhythms and melodies of the variety of music from all over the world.
Come and enjoy a moment of excitement at the art museum blessed with an abundance of greenery.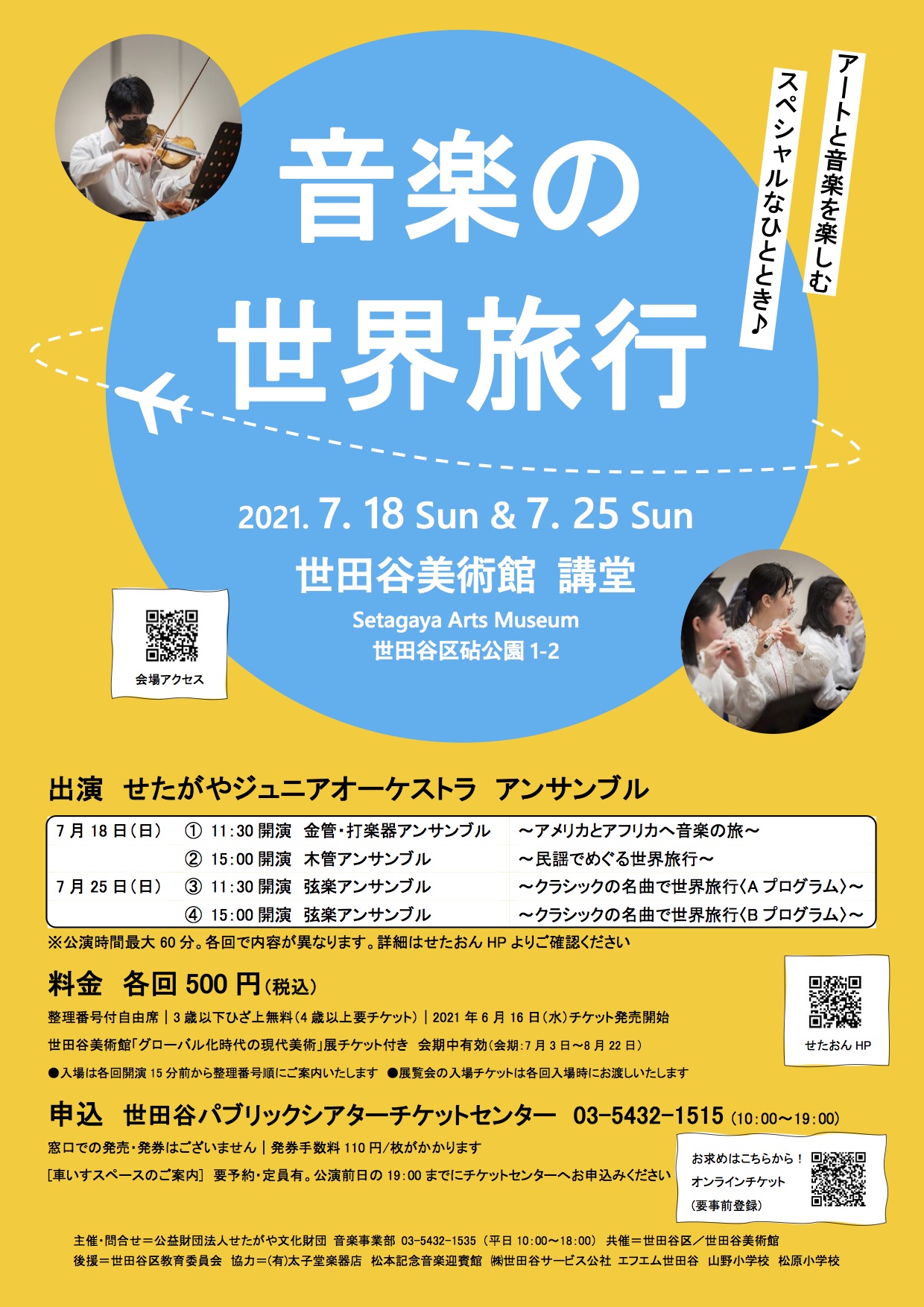 ---
Performers

Setagaya Junior Orchestra ensemble  profile…
---
Program

July 18
(1) Starts at 11:30 A.M. [brass and percussion ensemble]
Musical Trip to America and Africa
Dukas: Fanfare from The Peri (ballet in one act) (brass quintet)
Sousa: "The Stars and Stripes Forever," "The Fairest of the Fair"
Fink: Zulu Welcome (percussion ensemble)
Reich: Clapping Music (percussion ensemble)

(2) Starts at 3:00 P.M. [woodwind ensemble]
Folk Song Trip around the World
L. Conley (arr.): Popular Irish Airs
R. van Beringen (arr.): Timeless Traditionals
Tadahisa Nakamura: Furusato Fantasy
M. Crane (arr.): Five Traditional Folksongs for Wind Quartet (collection of English folk songs)
Takashi Haga: Nostalgic Landscape – Japanese Children's Songs Medley

July 25
(1) Starts at 11:30 A.M. [string ensemble]
Trip around the World with Famous Classical Music
J.S. Bach: Music yet to be decided (Akihiro Miura, violin soloist and SJO instructor)
Mozart: Divertimento, K.136-1
Vivaldi: The Four Seasons, Concerto No. 1 "Spring," and No. 2 "Summer"

(2) Starts at 3:00 P.M. [string ensemble]
Trip around the World with Famous Classical Music
J.S. Bach: Music yet to be decided (Akihiro Miura, violin soloist and SJO instructor)
Elgar: Love's Greeting
Sarasate: Zigeunerweisen
Holbergs: "From Holberg's Time"

*Please note that the program is subject to change.
*Performance time: Maximum of 60 minutes
---
Admission fees

[Numbered unreserved seats]
General: 500 yen (with a ticket to the "Contemporary Art of the Globalization Era" exhibition at Setagaya Art Museum)

*Up to two tickets may be purchased at a time
*Unreserved seats only
*Free admission for lap children aged three or under

*Wheelchair spaces available (limited / reservations required)
Fee: 10% discount with free admission for one escort
Call the Setagaya Public Theatre Ticket Centre (03-5432-1515) by 7:00 P.M. on the day before the performance.

*Tickets will only be sold by phone or online. Tickets will not be sold or issued through the Ticket Centre.
*Payments are to be made at 7-Eleven or online using a credit card.
*Tickets will only be issued through ticket terminals at 7-Eleven (handling fee of 110 yen will be charged per ticket).
*Be sure to read "A Request for Visitors to Prevent the Spread of COVID-19" before coming to the venue.

Seat layout

Click here for seat layout (PDF file)

*Same for all performances
*Tickets for these performances will be sold with adequate social distancing between seats as part of measures to prevent infection with COVID-19.
*Maximum of around 40 people per performance

Start of sales

Wednesday, June 16, 2021

Miscellaneous

*People will be allowed into the hall in the order of the numbers on their tickets, 15 minutes before each performance.
*Tickets for the art exhibition will be handed out at the time of entering the hall (they will remain valid for the duration of the exhibition).

[Special Museum Collection Exhibit: Contemporary Art of the Globalization Era: A Delightful Trip around the World through the Setagaya Art Museum Collection]Official website
---
Profile
---
Sponsor

Setagaya Arts Foundation Music Project Department

Cosponsor

City of Setagaya
Setagaya Art Museum

Support

Setagaya City Board of Education

Cooperation

Taishidou Musical Instrument Store
Matsumoto Memorial Music Guest House
Setagaya General Service Co., Ltd., Community Radio Station FM Setagaya
Yamano Elementary School
Matsubara Elementary School