Setagaya Music ProjectMusic Aiming to Break Free – Vol. 6: "Enka" and Romantic Stories
Events Details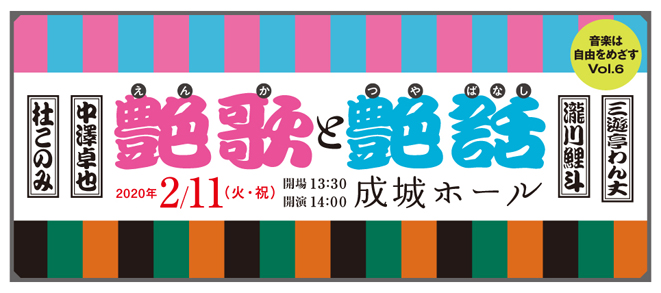 Setagaya Music Project
Music Aiming to Break Free – Vol. 6: "Enka" and Romantic Stories
[Preschool children welcome] (free only if they sit in an adult's lap)
Sold out
---
Tuesday (public holiday), February 11, 2020Performance begins at 2:00 P.M.
Seijo Hall

Access Map

Link to Google Maps

Address: 6-2-1 Seijo, Setagaya-ku, Tokyo
Note: No parking is available. Please use the train or bus.

Access:
By train, take the Odakyu Line, and get off at 'Seijo Gakuenmae'. (4 min walk)
By bus, get off at 'Seijo Gakuenmae-eki Kitaguchi' using SEI 01, 02, 04, 05, 06,
TOSE 20, 21. (3 min walk)
Get off at 'Seijo Gakuenmae-eki Minamiguch' using TORITSU 01, TO 12, TAMA 07,
YO 06. (4 min walk)
Get off at 'Seijo Gakuenmae-eki Nishiguchi' using SHIBU 24. (5 min walk)
Note: To get back on the bus, you must go to South gate.
"Enka" were originally songs of political satire, which evolved into emotional songs of tragic love and lovers' suicide, and they also came to be known as romantic songs. However, there was a time when they were looked down upon by intellectuals. On the other hand, "rakugo" comic stories known as "tsuyabanashi" were romantic stories of love affairs, and they were deemed inappropriate at the time. Some of the stories were even banned from being told on stage. But even while they were banned, both "enka" and "tsuyabanashi" were popular among the common people. This project will promote their charms for which they were loved.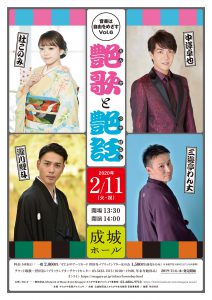 Performers
---
Program

Amagi-goe (Walk over Amagi Pass) and others (planned)

Program

Kami-ire and others (planned)
---
Admission fees

General: 2,000yen

Setagaya Arts Card and Setagaya Public Theatre Club members: 1,500 yen (advance sales only)

*Reserved seats only / Includes consumption tax
*Preschool children welcome (free only if they sit in an adult's lap)
*Wheelchair spaces available (limited / reservations required)
Fee: 10% discount with free admission for one escort
Call the Setagaya Public Theatre Ticket Centre (03-5432-1515) by 7:00 P.M. on the day before the performance.

Start of sales

Wednesday, November 6, 2019
---
Profile
---
Sponsor

Network of Music & Art Setagaya

Cosponsor

Setagaya Arts Foundation Music Project Department

Support

City of Setagaya